Highest Loan To Value Purchase Mortgages And Remortgages - Low Rate Loans From £5,000 To £150,000 - Release Your Equity With An Equity Release Plan
In our 25 years experience we have seen that obtaining a £100000 mortgage can go a long way to helping you reach your future goals. It could be that you`re planning on extending the family and want to buy your first property, a place to call home. Alternatively, if you have an existing mortgage in place on your property it could be a remortgage that you are after; wanting to raise for home improvements, a dream extension that you didn`t realise was financially viable or even to get on top of those pesky credit card bills and consolidate your debts into a more manageable payment. With a mortgage of £100,000 many of these targets can be achieved. For your free personal quote call our advisers on
0800 298 3000
(landline)
0333 003 1505
(mobile friendly) and how much you can get a £100000 mortgage or remortgage for each month, then you can decide whether or not to go ahead with the real numbers in front of you.
What Is The Deposit Needed For A 100000 Mortgage?
The deposit you need for a 100000 mortgage varies depending on a number of factors. Primarily, your current financial situation and previous credit history can be indicators of the deposit that would be required for your individual situation. Generally if you are looking to purchase a property the bigger deposit that you can secure, the better rate that you will have access to on your mortgage.
A 25% deposit would allow you to look at mortgage rates for 75% LTV and would mean saving up £25,000 plus any extra fees that the
mortgage lender
may charge. If this seems like an unrealistic amount you could, for example look to save a 5% deposit, which on a mortgage for £100,000 would be just £5,000. Please bear in mind you would also be required to save some for fees and solicitors costs and other fees that you face with a purchase mortgage or even a remortgage.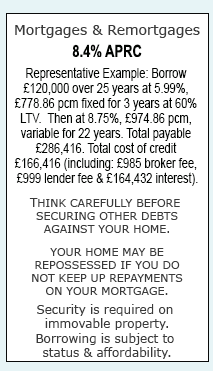 But the figures hopefully look achievable, give our experienced friendly mortgage advisers a call as soon as you have some saved up and we can get that 100,000 pounds mortgage sorted.
100000 Mortgage Calculator
If you are looking to raise a 100000 mortgage for a remortgage or purchase it is vital to fully realise the financial commitment that you will be taking on. To help with this we have developed several simple online mortgage calculators which can give you an idea of the costs involved and aide you in considering all of your options. To utilise this added help, head over to our
mortgage calculations
page and choose between our repayment calculator, debt calculator or mortgage Loan to Value (LTV) calculator. As we all know each case is unique, so as soon as you are ready to know what rates you can get then fill in our
on line enquiry form
or give us a call.
First Time Buyer Mortgage For 100 000
If you are a first time buyer looking to purchase your first home a mortgage of £100,000 would be a great start to get you on the first rung of the property ladder and avoid any stamp duty on your property purchase. As we have mentioned earlier, saving a deposit especially as a first time buyer can be a big hurdle. Fortunately for first time buyers in the UK many schemes have been put in place to help make this hurdle a more manageable obstacle to overcome. As of January 2014 the government`s `Help 2 Buy 2 Scheme` will start guaranteeing up to a 15% deposit for your purchase. What this means is that you will have to save as little as a 5% deposit yourself, this equates to an estimated £5,000 on a 100000 mortgage, which is all it takes to get onto the property ladder. If you are interested on more information with regards to first time buyer mortgages fill in our online form at the top of the page and we can get back to you.
Average Income Required For A 100 000 Mortgage
The amount you are able to borrow from a mortgage lender is largely dependent on three things; the property value and deposit/equity you have, how much you can afford and often most importantly how much you earn. In the current mortgage market most lenders, including many high street banks are willing to lend around 4 times your basic annual income. In certain cases depending on your credit score this could be slightly higher or lower. For a 100000 mortgage this means the applicants would need to be earning around £25,000 per year as a combined total to qualify for the mortgage. If you worry that you do not think you have enough income to warrant the loan size you are after, contact us on
0800 298 3000
(landline) or
0333 003 1505
(mobile friendly) to speak to a mortgage adviser who can advise you of the loan amount you would be able to borrow and who understands how the income calculations are done to make sure you are getting the right totals.
Mortgages & Remortgages
4.5% APRC
Representative Example: Borrow £80,000 over 25 years At 4.6% Variable, £461.95 for 300 months.
Total Payable £138,585. Total Cost Of Credit £58,585 (incl £1360 fee)
THINK CAREFULLY BEFORE SECURING OTHER DEBTS AGAINST YOUR HOME.
YOUR HOME MAY BE REPOSSESSED IF YOU DO NOT KEEP UP REPAYMENTS ON YOUR MORTGAGE.
Security is required on immovable property.
Established In 1988. Company Registration Number 2316399. Authorised & Regulated By The Financial Conduct Authority (FCA). Firm Reference Number 302981. Mortgages & Homeowner Secured Loans Are Secured On Your Home. We Advice Upon & Arrange Mortgages & Loans. We Are Not A Lender.

First Choice Finance is a trading style of First Choice Funding Limited of The Old Courtyard, 103 Buxton Road, High Lane, Stockport, Cheshire. SK6 8DX. Copyright protected.