Highest Loan To Value Purchase Mortgages And Remortgages - Low Rate Loans From £5,000 To £150,000 - Release Your Equity With An Equity Release Plan
First Choice Finance can help give you access to a selection of different loan plans. If you are looking to borrow £20,000 with an affordable repayment, then we could help. Larger loans over longer repayment period tend to be secured loans or even remortgages, however some unsecured personal loans are available for quite large amounts. Typically our options for personal loans that are not secured start at £500 and extend up to £15,000 over terms of 1 to 5 years. A £20,000 loan will possibly be provided through a homeowner secured loan. Homeowner loans are to cater for customers looking for larger loan amounts over longer terms. Here at First Choice Finance we have an extensive panel of lenders that allows us to search for the best plan for you from our panel and we will provide you with a free no obligation quotation before you proceed, so you can decide whether to go ahead or not.
What Can I Use A £20,000 Secured Loan For?
Our loans can be used for almost any purpose these include :-
Home Improvements - For £20,000 you could make some improvements to your home add a conservatory to enjoy the summer, add a house extension to add value to your property or any other home improvements you may wish to carry out


Consolidate Existing Debt - If you have payday loans, credit cards, store cards or other debts consolidating these into a 20,000 debt consolidation loan could help you simplify your finances, by combining all these debts into one you can choose a loan term that can make your monthly loan payments manageable, visit our debt consolidation loan calculator and figure out how the costs of consolidating your debts works out. For more information, help and guidance please feel free to give us a call and talk to one of our loan team.


Buy a Car - £20,000 in today`s market can buy you a very nice motor, by arranging finance beforehand you may find yourself in a better negotiating position when looking to purchase a newer car, a loan arranged through First Choice Finance can be used to choose the car of your choice and you will not be locked in to any dealership through your car finance loan.
How Much Will A £20,000 Loan Cost?
The cost of the loan will vary on a number of different circumstances, if you have been unlucky enough to have missed a few payments on your existing credit this may increase the cost as lenders will deem you have an adverse credit rating, but with a panel of lenders with specialist adverse credit loan plans we will search to find the lowest rate we can for you in any case. If you have a good credit file there are some very competitive rates available, other things that are considered are the length of time in employment, the term of the loan and the LTV of your current mortgage. Our experienced loan team will search for the best loan plan from our panel and find you the lowest rate we are able to, all quotes are free and you will be under no obligation to proceed.
First Choice Finance £20,000 Loan Specialists.
We appreciate the importance of your finance`s and search for the best loan deals on your behalf.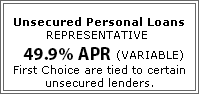 With around 25 years of experience you will receive a friendly and professional service. When it comes to loans for £20000, we know all the details of the many different plans from all our lenders and work hard to keep an excellent relationship with them, by maintaining a good communication line we try and fix problems before they arise, making the loan process as simple and pain free as possible. We challenge ourselves to learn and improve always striving to raise our standards and offer the best service available, we work hard to deliver an excellent service to our clients and help them obtain the money they need.
Established In 1988. Company Registration Number 2316399. Authorised & Regulated By The Financial Conduct Authority (FCA). Firm Reference Number 302981. Mortgages & Homeowner Secured Loans Are Secured On Your Home. We Advice Upon & Arrange Mortgages & Loans. We Are Not A Lender.

First Choice Finance is a trading style of First Choice Funding Limited of The Old Courtyard, 103 Buxton Road, High Lane, Stockport, Cheshire. SK6 8DX. Copyright protected 2014-2018.