Highest Loan To Value Purchase Mortgages And Remortgages - Low Rate Loans From £5,000 To £150,000 - Release Your Equity With An Equity Release Plan
When looking for a mortgage or remortgage there are a number of factors to consider, the first is what you require the mortgage for. Are you looking to purchase a property, considering buying a second property to rent out or are you needing to remortgage your existing house to get a lower mortgage rate or just want to release equity.
£300,000 Mortgage Options
Are you looking to purchase a property worth £300,000 and need to mortgage a percentage of the property value or are you looking to buy a house worth over three hundred thousand pounds and need to borrow £300,000 via mortgage to complete the purchase - in either case First Choice Finance have mortgage deals to suit your requirements. If you are not moving but are remortgaging - perhaps to obtain some funds for a project on your home, then we have plenty of £300,000 remortgage plans too, be it on your residential home or a buy to let property your rent out.
Cost Of Borrowing £300,000
A £300,000 mortgage is considered a large mortgage amount, as a result these bigger mortgages are often offered at lower interest rates than a smaller mortgages. The individual rate that you will be given will depend on a number of factors, including your credit profile, here at first choice we have some very competitive mortgage plans for those with good credit ratings as well deals available for people who may have adverse credit ratings. Here at First Choice Finance we also have many years' experience helping those of us who are self-employed. Another factor is the length of time the mortgage is taken out over, the longer the term the cheaper the monthly repayments, but you may well end up paying more interest over the course of the mortgage contract. Together with you we will compare the different deals and options available a find a mortgage rate that is at a competitive low rate for your circumstances, helping you choose the best mortgage plan available from our panel of lenders. You will receive a full illustration on the mortgage, breaking down the costs and different features of the mortgage plan offered to you, all quotes are FREE and you will be given help and guidance by an experienced mortgage advisor who will be happy to answer any question that you may have. Many mortgage plans give you an initial rate which is at a discount.
Loan To Value Ratio
Your loan to value (LTV) is also an important factor on determining the cost of the mortgage deal that are available to you, the lower the LTV the better interest rate you will receive.
| | | |
| --- | --- | --- |
| Mortgage Amount | Property Value | Loan To Value |
| £300,000 | £ 350,000 | 85% LTV |
| £300,000 | £ 400,000 | 75% LTV |
| £300,000 | £ 500,000 | 60% LTV |
| £300,000 | £ 600,000 | 50% LTV |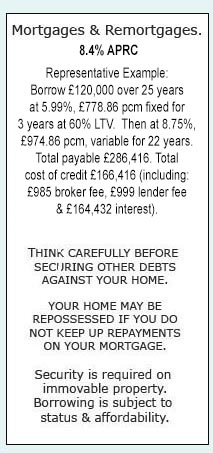 Here at First Choice Finance we are able to help people thinking of buying a house and applying for a mortgage, with numerous banks on our panel as well as specialist mortgage lenders and plans only available via a mortgage broker, we will help you find all the information to facilitate you in the selection of an appropriate mortgage for your circumstances. On the First Choice Finance website you will find the tools to compare products, calculate your cost and thus assess which option that interests you most, we also have qualified mortgage advisors who will give you access to expert advice with many years' experience.
What Is A Mortgage And How Does it wWrk?
At this point, it is difficult for someone to not know what a mortgage. However, it never hurts to remember that a mortgage is any loan that is secured on your property or real estate and is usually taken out via a contract for the purchase of a house or to replace a current mortgage on a home you live in.
Money borrowed is guaranteed by a flat, house or any other property, the bank sees less risk with a mortgage than with personal loans, therefore often helping you receive a lower interest rates.
To find out the total cost of a mortgage you can use a mortgage calculator, but you will need to know more in depth the main elements that the mortgage consists of via our advisers to get accurate facts and figures and understand how they influence and share in the final price of the mortgage:
Interest: is the amount the lender charges for lending you the money for the purchase of your property. In other words is the cost of the mortgage. We can distinguish various types of mortgages based on the interest rate: fixed, variable, tracker, part and part are some of the options available.
Repayment Term: is the period of time you have to repay the debt. The term varies depending on the type of mortgage, for variable loans the average is 25 years, although some mortgages can last up to 40 years or shortened to just 10 years. We should note that the term is linked to interest and costs, in this way the longer term is the more interest you will pay, and the total cost of the mortgage will be higher. Mortgage Amount: this is the money that the bank or other mortgage lender gives us to afford to buy housing. The loan to value is an important factor on determining the amount you are able to borrow.
For more information or a no obligation free quote please contact First Choice Finance today.
Established In 1988. Company Registration Number 2316399. Authorised & Regulated By The Financial Conduct Authority (FCA). Firm Reference Number 302981. Mortgages & Homeowner Secured Loans Are Secured On Your Home. We Advice Upon & Arrange Mortgages & Loans. We Are Not A Lender.

First Choice Finance is a trading style of First Choice Funding Limited of The Old Courtyard, 103 Buxton Road, High Lane, Stockport, Cheshire. SK6 8DX. Copyright protected 2014-2018.