New 2021 Affordable £40,000 Loan Plans Over 5, 10, 15 Or 20 Years - Borrow £40,000 With Good Or Bad Credit - Loans From £3,000 To £750,000 over 36 To 300 Months - Match Loan Repayments To Suit Your Budget & Use The Money For Multiple Purposes
Having been around for 30 years we have noticed that the cost of buying anything these days - from a new vehicle to a new kitchen - can involve quite large sums of money. Also the availability of store credit, competing credit card companies and appealing personal loan or overdraft facilities can lead to a household stacking up a significant debt which may be impacting on your cash flow. Thereby making any new major purchase, or carrying out important enhancements to your home, a big challenge.

It is therefore not surprising that
many of our clients decide to obtain £40,000 to tick all the desired boxes in one go.
You can spread the payments over 36 to 300 months to suit your budget. Then use the money to get back on top of your finances and / or make your project a reality - perhaps you are seeking a buy to let property, a holiday home or a major extension / renovation, all of these purposes (and more) are quite acceptable. Furthermore there are £40,000 loan plans available for UK customers with either good or bad credit.
Fortunately our longevity in the loan arena means we have large loan plans available which enable amounts of £40,000 or more to be obtained.
The key thing is not to be rushed into a decision to take out this size of loan
. Firstly discuss your requirements confidentially, without obligation with our UK based loan team and get your free personal quotation, this will help you make the decision to go ahead or not when you are ready. Call us at your convenience on
0800 298 3000
(freephone), or
0333 0031505
(mobile friendly) or simply fill in our
3 minute on line enquiry form
and we will call you. Clearly there are criteria that you will need to meet, but you may be surprised how flexible the terms can be.
The £40,000 secured homeowner loan route is just one example available for any purpose loans - this can
offer terms of 3 to 25 years and does not interfere with your current mortgage
- loans on this product start at around £4,000 and go up to over £140,000.

Alternatively we can offer remortgage solutions giving you options where you could obtain the funds you require and potentially bring your current mortgage rate down or take the money as a second mortgage. One major factor is security. Loans of this size through our options (and generally in the large loan market place) will need to be secured. This can be on a buy to let property you rent out, a major asset or business you own or even on your own house. This can be via a secured loan, an equitable charge or a remortgage - alternatively equity release may be the answer.
Borrow £40,000 Over 15 Years With A Remortgage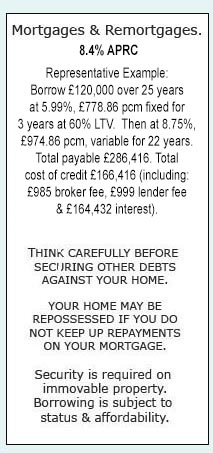 Another way to obtain a £40,000 loan is via remortgaging - basically by taking out a new larger mortgage on your home and adding this amount to your mortgage. As an example repayments on
£40,000 over 15 years at 2.2% could be £269.80. The Overall cost for comparison is 4.5%APRC.
Advice fee included. Lender and product fees may also apply. We also arrange £40,000 over 5 and 10 year terms to suit your budget. You often find that the rate of interest charged on a mortgage will usually be lower than that on most loans, so if you are coming to the end of your fixed period or your current mortgage deal has no early repayment charges this could be a suitable option. First Choice Finance arrange both loans and mortgages so will be happy to look at both options, all quotes are personalised and without obligation, plus you will receive expert help and guidance throughout the financing process.
£40,000 Home Improvements, Second Home or Major Purchase
If you have got a £40,000 budget to carry out home improvements you can achieve an awful lot, from building an extension or loft conversion to a full renovation of your property. Investing £40,000 into your property should hopefully increase your homes value in the long term, but either way you will be living in the environment you have created.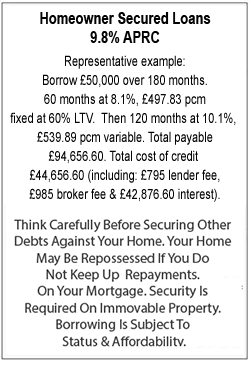 First Choice Finance could help you obtain money for virtually any purpose, including many types of home improvement projects large and small, enquire online or give us a call and receive your no obligation free quote. Maybe you are looking at a combination of purposes, perhaps you want to get back on top of your credit cards or personal loans, sort out a new car and carry out some home renovations, well with a budget of £40,000 you can hopefully tick all of those boxes.
Are There £40,000 Self Employed Or Bad Credit Loans?
The loan underwriters and mortgage advisers at First Choice Finance have extensive product knowledge of all the different plans we have available, we built strong relationships with all of our lenders allowing us to communicate and solve problems should they occur as quickly and painlessly as possible. We always strive for a competitive rate for our customers even with bad credit and fight to get access to plans not readily available on the high street. There are probably many more lenders out there than you would think, all competing for consumers, so they seek different types of consumers to enable them to get some market share. This means that there are plans for both employed and self employed customers along with loan products for people who have been unlucky enough to incur defaults, county court judgements or even mortgage arrears. We must be realistic and getting a large loan is by no means a certainty but at least there are companies out there who are willing to try and give you a second chance and enable you to put your finances back on track and even repair your bad / poor credit.
Spread £40,000 Loan Over A Long Term
With a secured loan from First Choice Finance you are able to spread your payments to suit your circumstance, choosing a longer loan term will reduce your monthly repayments, although this will result in you paying back more over the term of the loan. When you enquire, where we can help, you will be able to get a free no obligation quote on various different loan plans that fit your requirements.
Common Questions Answered About £40,000 Loans
How Much Do I Need To Earn To Borrow £40,000?
What Credit Rating Do I Need To Have To Be Approved For 40K?
To Borrow £40,000 Do I Have To Have A Secured Loan?
Borrowing Options For £40,000 or Larger?
Should I Consolidate My £40,000 Worth Of Debts?
How Much Do I Need To Earn To Borrow £40,000?
Even if your income is relatively low you may still be able to borrow £40000. The reason for this is one of the main areas for large loans is whether or not you can afford it. So a higher wage earner who has a lot of outgoings may struggle versus an applicant who has a lower income but fewer outgoings. The key aspect to look at is how much disposable income you have left each month after you have paid all of your regular bills. If you have enough to meet the loan repayments then you are of to a good start.
What Credit Rating Do I Need To Have To Be Approved For 40K?
Your credit rating can be good, fair or poor and you could still be able to obtain the £40,000 UK loan you are seeking. However a bad or fair credit rating due to missed payments on cards, defaults or CCJ`s will affect your options in at least two ways. Firstly you are likely to have fewer lenders who are prepared to lend you the money as you may be deemed a higher risk. Secondly the rate you qualify is likely to be higher than someone with no adverse credit, again this is because of the perceived risk of lending to you. Secured loans are also more likely to be available to a bad credit applicant looking to improve their credit rating as oppose to an unsecured personal large loan. This is because the lenders has security for their loan via a charge over your property.
To Borrow £40,000 Do I Have To Have A Secured Loan?
No, you do not as of current products have to have a secured homeowner loan. However The lenders offering them are limited and you are probably going to need a good credit history, be able to demonstrate affordability and have a fairly high credit score to pass the loan assessment process.
Borrowing Options For £40,000 or Larger?
There are 4 borrowing options most commonly available for consumers seeking larger loans of £40000 or more. These are in order of likely volume; a mortgage or remortgage on your home or a buy to let property, a personal loan from a high street lender or specialist loan provider, a secured homeowner loan (also known as a second mortgage ) from a secured loan lender and finally homeowner over 55 years old can consider equity release on their home through a lifetime mortgage or home reversion scheme to obtain larger loans.
Should I Consolidate My £40,000 Worth Of Debts?
Debt consolidation loans are a common way of taking out one large loan in order to pay of a number of smaller loans and credit cards to make the repayments more manageable and hopefully to bring down the monthly repayments. This can be right for you if you need to improve your cash flow to avoid falling behind with your current credit and ending up with defaults or other bad credit scenarios. However this will almost certainly mean you need to take the large loan over a longer period than the previous loans ran for, thereby increasing the interest you will pay considerably.
THINK CAREFULLY BEFORE SECURING OTHER DEBTS AGAINST YOUR HOME.
YOUR HOME MAY BE REPOSSESSED IF YOU DO NOT KEEP UP REPAYMENTS ON YOUR MORTGAGE.
Security is required on immovable property.
Established In 1988. Company Registration Number 2316399. Authorised & Regulated By The Financial Conduct Authority (FCA). Firm Reference Number 302981. Mortgages & Homeowner Secured Loans Are Secured On Your Home. We Advice Upon & Arrange Mortgages & Loans. We Are Not A Lender.

First Choice Finance is a trading style of First Choice Funding Limited of The Old Courtyard, 103 Buxton Road, High Lane, Stockport, Cheshire. SK6 8DX. Copyright protected.