Latest 2020 Rates On £50,000 Mortgages, Remortgages & Loans - Purchase Any Property Or Release Money From Your Home - UK Any Purpose £50000 Mortgages Available With Good Or Poor Credit - Join Thousands Of Customers Who Have Already Achieved Their Mortgage Goals
| | | |
| --- | --- | --- |
| | | |
| Choose Between A £50K Mortgage, Remortgage Or Loan | Select 2, 3, 5 or New `10 Year Fixed Rates` For Peace Of Mind | All Income, Employment & Credit Scores Considered |

Borrow £50,000 With A Repayment Period To Suit Your Budget. Multiple Low Cost Lending Solutions Not Available On The High Street. Very Competitive Rates, With Fair & Transparent Terms. Get The Facts & Figures First With Your Confidential Free Quotation.

Why Choose Us? - Our Clients Have Already Successfully Taken Out Over £1 Billion !
You could take out a £50000 mortgage, spread over 36 to 300 months to suit your budget. Other mortgage amounts from £5,000 to £500,000 are also available. You will find out the size of mortgage you can obtain and how much your monthly payments will be before you decide to proceed. If you are looking to borrow £50,000 through a mortgage or remortgage there are some
very low rate options available at the moment
and it is important to make sure that you are getting one of the
best mortgages for your circumstances
.
£50,000 is a popular & manageable mortgage to take out - but regardless of the size, it could be a £150,000 mortgage or even a £250,000 mortgage, the significance of getting it right for you is still the key to success.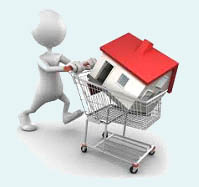 Use our 30 years experience and
join thousands of clients who have already achieved their mortgage aspirations
. We believe this is because we focus entirely on you getting the right, affordable mortgage from our extensive selection of mortgage lender products. So you can concentrate on how you are going to spend your money - whether you are remortgaging your current home to release funds or buying a home.
For confidential free quotes on your £50,000 mortgage options please call our UK mortgage team on
0800 298 3000
(free phone) or dial
0333 003 1505
(mobile friendly). If you don`t have time to call right away - No need to worry, rather than putting your mortgage on hold, simply fill in our short
fast quote on line enquiry form
.
Small Mortgages Explained
In the great scheme of things many mortgage lenders consider a £50000 mortgage as a
smaller mortgage
. Unfortunately for a borrower, certain lenders will not make as much money on a small mortgage in the region of £25,000 to £50,000 as they would for say a larger £250000 mortgage. As a result they can occasionally be excluded from the top deals with those specific lenders. However
plenty of competing mortgage lenders want your business
, so to avoid missing out on some of the best deals for your situation contact us, so we can scour our lenders on your behalf to help ensure you are not left out of the best deals from our panel.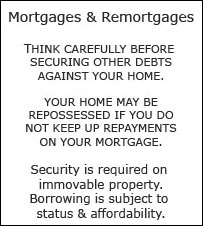 Just like people, mortgages can come in all shapes and sizes and this means that they can be tailored to almost exactly what you need. Here at First Choice Finance we can provide you with access to mortgages large and small. With lenders currently in the market who will consider clients with a low credit score or have incurred some bad credit and offer home loan amounts from just £10,000 to those that are willing to lend you millions, we will aim for the right mortgage for your requirements.
Costs Of A 50000 Mortgage Over 15 Or 25 Years
An integral part of your 50000 mortgage is that you can afford the monthly repayments involved. One of the ways that you can adjust your monthly repayments is by altering the term that you pay the mortgage over. Extending the mortgage term will decrease your monthly repayments. This is because you are spreading the cost of the mortgage over a longer time, however you will then pay back more over the whole mortgage term. Loan to value has a notable impact on your mortgage rate so the bigger the deposit the better, although
purchase mortgages for circa £50,000 are available up to 90% LTV.
Check out our free to use
50000 Mortgage LTV Calculator
to get a feel for the impact of deposit sizes on repayments. Here is an example of how mortgage term can affect your monthly Capital & Interest Repayment:
£50,000 mortgage at 1.28% over 15 years
Monthly initial repayments: Capital & Interest Repayment = £307.07 Interest Monthly = £53.33
£50,000 mortgage at 1.28% over 25 years
Monthly initial repayments: Capital & Interest Repayment = £195.81 Interest Monthly = £53.33.
The overall cost for comparison is 4.5%APRC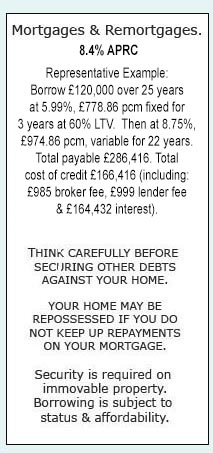 As you can see the longer the term, the lower the monthly payment on capital and interest mortgage type repayments, but you will pay more interest over the term. The key is to
borrow what you can afford to pay back and try to keep the payment term as short as practical
without over stretching yourself. If you would like a free quote on a 50000 mortgage fill in our short online application form at the top of the page and one of our own UK mortgage advisers will get back to you. Any Questions? Please give us a call on
0800 298 3000
and speak to our advisers directly.
Getting A 50000 Mortgage With Bad Credit
There are purchase mortgages and remortgages for certain levels of bad credit. If you have existing bad credit, a mortgage to consolidate your outstanding debts could be a lifeline after you have looked at other routes and it has not worked out for you. Unfortunately as is often the case when you have bad credit it is more difficult to obtain any finance in the first place. We can often help clear this hurdle with access to competitive mortgage deals for poor, bad or adverse credit files. Whatever your reason for needing a £50,000 mortgage, be it buying a home, or releasing money from your current one, even if it is to clear existing debts and refresh your finances, we encourage you to seek professional help through a mortgage broker like ourselves. That way you can be safe in the knowledge that you are receiving sound advice and maybe you can even begin to rebuild your credit status.
50000 Mortgage Payment
Knowing the numbers involved with a 50000 mortgage can help you to build a better picture of how much it is going to cost you in total and on a monthly basis. This is important for you to ensure that the mortgage is affordable. If you would like an idea of the cost of a mortgage for £50,000 head over to our
payments calculator
and try different terms and interest rates to get a feel for what you can afford, or better still call us or enquire on line and we will advise you of which figures relate to your circumstances without obligation.
Can I Get A Mortgage For £50,000?
What Would Be The Repayments On A £50,000 Mortgage?
Can I Release £50k`s Worth Of Equity From My Home?
What Is The Minimum Mortgage Amount Available?
What Is The Shortest Mortgage Term Offered By Lenders?
Can I Get A Mortgage For £50,000?
Yes - subject to criteria. There are a large number of mortgage products at £50,000 and less, our lender panels smallest mortgage is just £10,000. If you need a larger mortgage there are lender plans with mortgage amounts available into the £millions. By seeking mortgage advice you will have access to a great many mortgages and remortgages for any amount. There are also loan options available if you are wanting to borrow a smaller amount than you can get via a mortgage, i.e. less than £10,000. In some cases a £50,000 homeowner loan may be an alternative option to remortgaging. If you seek advice we will look at our lenders available products to give you the most suitable advice on your options from our extensive choice.
What Would Be The Repayments On A £50,000 Mortgage?
The repayments for a £50,000 mortgage will vary depending on the mortgage term, your credit rating and your LTV (this is how much you are borrowing compared to the equity in your home, known as ` loan to value`). The rate is of course also a major factor, generally the lower your loan to value (LTV) and the better your credit profile, then the lower rate you can qualify for. Lenders change their rates frequently so speaking to a mortgage or loan adviser may give you the heads up quite quickly on which rate you currently qualify for.
Can I Release £50k`s Worth Of Equity From My Home?
Yes there a number of ways to release equity from your home. There are mortgage options for people aged under 55 in the form of remortgages or homeowner secured loans (second mortgages) For over 55`s we can advise you on our panel of equity release lenders with a large number of equity release mortgages. Over 55 may also qualify for homeowner loans or standard remortgages.
What Is The Minimum Mortgage Amount Available?
Most lenders smallest mortgage amount is £10,000 but there are alternative loan options from just £1,000. So whatever the amount of money you are looking to borrow there may be the ideal lender available for you. Money is normally paid directly to you and can be used for any legal purpose.
What Is The Shortest Mortgage Term Offered By Lenders?
Most mortgage providers have a minimum mortgage term of 5 years / 60 months, however some lenders may offer mortgage terms of just 36 months (subject to affordability). If you cannot get a £50000 mortgage over a term short enough for you can always opt to pay of more of the capital each year to settle it early. Most lenders allow you to `overpay` your mortgage by 10% each year without triggering any early repayment charges. Doing this will save you a lot if interest over the term. If you still want a shorter term there are secured loan options with more flexible repayment options that will allow you to repay £50,000 in a shorter period of time.
THINK CAREFULLY BEFORE SECURING OTHER DEBTS AGAINST YOUR HOME.
YOUR HOME MAY BE REPOSSESSED IF YOU DO NOT KEEP UP REPAYMENTS ON YOUR MORTGAGE.
Security is required on immovable property.
Established In 1988. Company Registration Number 2316399. Authorised & Regulated By The Financial Conduct Authority (FCA). Firm Reference Number 302981. Mortgages & Homeowner Secured Loans Are Secured On Your Home. We Advice Upon & Arrange Mortgages & Loans. We Are Not A Lender.

First Choice Finance is a trading style of First Choice Funding Limited of The Old Courtyard, 103 Buxton Road, High Lane, Stockport, Cheshire. SK6 8DX. Copyright protected.