Part and part mortgages essentially combine the two most popular repayment options, full repayment mortgages and interest only mortgages, all into one and create a mortgage repayment option of their own. First Choice Finance have been helping people get the mortgages they want for the last 25 years and that should give us the experience to be able to help you. With interest only the structure of the mortgage loan means that you only pay off the interest on the mortgage over the term, which keeps the payments low but leaves you with all the initial capital amount you borrowed still to pay back at the end. Whereas the full capital repayment mortgage option pays off both the interest and the original borrowing entirely, but carries a much larger monthly payment with it. By opting for a part and part mortgage you can strike a balance between the two extremes. With our help you can aim to choose the amount you would like to be spending on each component and have a mortgage payment that isn`t too expensive, and still builds equity in your property by reducing the mortgage balance over time.
It may sound too good to be true and you may not have even heard of such an option, but for some of us, part and part mortgages are the perfect solution. When you speak to our advisers they can help you decide if this is the right mortgage for your individual needs, whilst making sure you are aware of the commitment you are taking on. You will be provided with quotations for free and without obligation so you can decide if and when you want to go ahead. To speak to one the finance adviser team give us a call on 0333 003 1505 (mobile) 0800 298 3000 (landline) or fill in the short on line enquiry form and we will call you at your convenience.
Part And Part Mortgages A Good Move?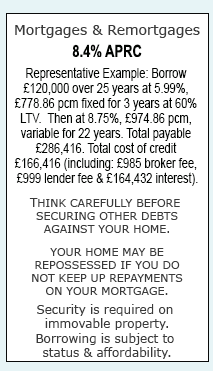 Many people will in the past have often opted for either an interest only repayment option with an investment running alongside aimed to pay of the balance at the end or for a full capital repayment option and not consider combining the two, like part and part mortgages. Although they aren`t as widely used as some methods they can be a key repayment method when looking for finance. Here are a couple of examples of why:
You want to switch from interest only to repayment but cannot afford the significant increase in monthly expenditure that it might constitute. With a part and part remortgage it is a more affordable approach, whilst still reducing the debt you owe.
You want to pay off your mortgage balance but have an endowment policy or stakeholder pensions in place that could pay off a substantial chunk in the future. With a mortgage on a part and part basis you can simply choose the interest only aspect to keep the mortgage balance static and pay enough capital to cover any shortfall in the maturity of the investment versus the amount still left on the mortgage,so keeping the payments lower than full repayment in the meantime but hopefully resulting in a clear balance when it all shakes down.
You may be in full time employment or self employed and either working on a structured pay system or a business plan which will see you income grow significantly in a few years time. Making partial capital repayment mortgage will enable you to keep chipping away at your mortgage balance and keep on top of the interest but once your income has increased you can then look to move to a full capital and interest repayment mortgage without having a big impact on your life style
If you have crunched the numbers on your monthly budget and they just aren`t stretching then part capital with part interest could be your answer.
Part And Part Mortgage Calculator
A big question to ask yourself when considering a part and part mortgage is how much equity you need the lender to provide the funds for and how much equity is yours. The equity that is mortgaged is the amount of mortgage required divided by the current value, then times by 100. The remaining percentage is effectively your equity at that time. Bear in mind home values go up and down so it can and will change over time. Mortgages and remortgages at below 75% LTV (loan to value) tend to command the very best rates as the mortgage lender is responsible for a smaller percentage of the money needed. But competitive plans are still available up to 90% LTV and over. If you are looking for a low or high loan to value, part and part mortgages can be a good option to keep payments down. To establish your loan to value head over to our calculators page and figure out what loan to value your mortgage advance would at, or give us a call and we will let you know.
Part And Part Mortgage Deals
The mortgage market is continually changing, but the key is to approach a company who has access to multiple plans and the latest up to date information. To hear about our best deals for part and part mortgages fill in our short online form so that our advisers can get back to you and let you know the deals currently on offer.
Want To Switch From A Part And Part Mortgage?
If you currently have a part and part mortgage and are looking to remortgage to raise money for home improvements or to consolidate some outstanding debt then you have come to the right place. Although at one point part and part mortgages might have been the right deal for you, it may not always remain that way and if this is the case, it is worth looking to refinance now to save you money in the long run. If your investment plan to cover the interest only aspect isn`t performing quite as you had hoped, you may want to think about switching to full repayment if you can afford it, ensuring that you aren`t saddled with a lump sum to pay off when your mortgage term ends. Or maybe you have been promoted at work and can afford to pay more off of the original borrowed amount, providing you with the opportunity to pay down the debt on your home to ultimately reach most people goal, that is `to be mortgage free`! If you speak to one of our in house advisers, they can assess your affordability and the possibility of remortgaging over to full capital and repayment and provide you with a free personalised illustration too. If you would like more information on any of our remortgages, enquire on line or call us on 0800 298 3000 (landline) 0333 003 1505 (mobile).
Established In 1988. Company Registration Number 2316399. Authorised & Regulated By The Financial Conduct Authority (FCA). Firm Reference Number 302981. Mortgages & Homeowner Secured Loans Are Secured On Your Home

First Choice Finance is a trading style of First Choice Funding Limited of The Old Courtyard, 103 Buxton Road, High Lane, Stockport, Cheshire. SK6 8DX. Copyright protected 2014-2018.