Highest Loan To Value Purchase Mortgages And Remortgages - Low Rate Loans From £5,000 To £150,000 - Release Your Equity With An Equity Release Plan
Guarantor loans are an increasing popular form of finance being chosen in the UK, but an important question is - it the best solution for you to borrow the money that you need? Or maybe the question could be is helping someone you know by being their guarantor something you are prepared to do?
What is a Guarantor Loan?
A guarantor loan is a type of finance

where the borrower who takes out the loan also has someone co sign the agreement taking liability for the loan in the event of the original borrower not repaying the debt. This type of loan enables people with adverse credit or no credit history to borrow money if they have had difficulty arranging a loan in the past.
Who Can Be a Guarantor?
Being a guarantor is available to many different types of people, just like traditional loan lenders the different guarantor lenders have different criteria for becoming a guarantor, some lenders will require the guarantor to be a home owner while other`s will accept tenant guarantor`s. Other important criteria include;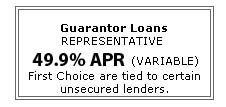 are you able to afford the repayments on the loan, what other financial commitments you have as well as your employment status and your age. The cleaner your credit history the more likely you are to be accepted.
Can The Guarantor Be Family?
Yes, in fact a lot of guarantor`s are often members of the guarantor, either parents, brothers, sisters or aunts and uncles. Although many people who become guarantor`s are related to the borrower it is not a prerequisite and some borrowers ask a friend or even work colleague to be a guarantor.


Should I Become A Guarantor?
Becoming a guarantor is a big responsibility and should not be taken lightly as you will become responsible for repaying the loan in the event of the original borrower defaulting. You should discuss it with the borrower and ensure you are confident they are able to repay the loan. If the loan falls into arrears or defaults entirely then this will impact both of your credit files in a negative way. Defaults can stay on your credit file for up to 6 years and can affect your access to mortgages and loans for a long time.
Does Being a Guarantor Affect My Ability To Borrow Money?
Yes it may - because if you are a guarantor then this will be added to your credit profile which may affect your ability to borrow money. It should not negatively affect your credit score, but any loan or mortgage will take the possibility of you repaying your the guarantor loan in any affordability calculations.
Alternative To Guarantor Loans
Here at First Choice Finance we are able to help you arrange a guarantor loan with a number of lenders, we also offer other finance options that you could consider these include home owner loans that may accept people with poor credit. Poor credit homeowner loans allow the borrower to arrange a larger loan up to £150,000 the fact that the loan is secured on your property up to £150,000 the fact that the loan is secured on your property gives the lender more confidence in the borrower enabling you to get approved, even if you have been declined in the past. First Choice Finance can also help you arrange an unsecured loan, with specialist lenders accepting people with adverse credit profile or been rejected for a loan in the past.
For more information on applying for a guarantor loan or borrowing money via a homeowner loan, personal loan or remortgage call 0800 2983000 and speak to one of or experienced advisor`s who will be happy to answer any questions you may have and talk you through the different solutions available to your individual requirements.
Guarantor Loans
REPRESENTATIVE 49.9% APR (VARIABLE)
First Choice are tied to certain unsecured lenders.
Established In 1988. Company Registration Number 2316399. Authorised & Regulated By The Financial Conduct Authority (FCA). Firm Reference Number 302981. Mortgages & Homeowner Secured Loans Are Secured On Your Home. We Advice Upon & Arrange Mortgages & Loans. We Are Not A Lender.

First Choice Finance is a trading style of First Choice Funding Limited of The Old Courtyard, 103 Buxton Road, High Lane, Stockport, Cheshire. SK6 8DX. Copyright protected.