When looking for a loan the options can be overwhelming, here at First Choice Finance we give you access to finance experts who have detailed knowledge of some of the plans from many different lenders. When you apply for a loan our finance team will get an understanding of your circumstances, needs and requirements use this information to compare the best loans from all our lenders and associate companies to help you find the one that may be most suitable for you.
Finding the cheapest loan
Unfortunately loans are not cheap, you just need to try and get a relatively cheaper one. Everyone`s situation is different and the cost of your loan will depend on a number of different factors these include have you any missed payments on your credit file, have you received any CCJ`s, what is your employment status and address history, how much are you wanting to borrow? Also the length of your loan term is important. All these factors can affect the availability of a loan and the interest charged. Knowing some of the different criteria of the lenders can help find the best loan plan for your circumstances, whether it is a loan with a low interest rate or to try and find a loan with a bad credit rating, for someone who has been declined finance in the past. Any quotes are free and we will always try to answer any queries you may have with no obligation to proceed.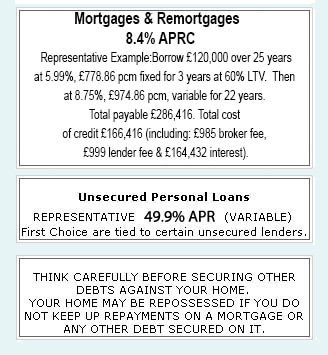 As one of the UK`s long term finance broker`s we can help you in your search to find the right loan for your circumstances, specialising in helping clients from all walks of life we provide help to obtain financing solutions. The aim being to help people borrow money that they need, for almost any purpose at an affordable payment to them. Here at First Choice Finance we have a real passion for delivering a high quality, friendly service with a personal touch, our loan underwriters are always happy to answer your questions and will make the whole process as painless as possible.
Online Application Process
Here at First Choice Finance we embrace technology and use it to help process your loan enquiry in a straighforward manner. With a simple online enquiry process, we gather enough information to start the process of getting you a loan. All the correspondence is completed over the internet, phone and mail enabling us to offer our service throughout the UK. Here at First Choice Finance we provide a sound and open journey to finding you a loan with a friendly approach, with circa 25 years experience we are able to use our expertise to help you arrange the loan best suited for you from our providers.
Established In 1988. Company Registration Number 2316399. Authorised & Regulated By The Financial Conduct Authority (FCA). Firm Reference Number 302981. Mortgages & Homeowner Secured Loans Are Secured On Your Home

First Choice Finance is a trading style of First Choice Funding Limited of The Old Courtyard, 103 Buxton Road, High Lane, Stockport, Cheshire. SK6 8DX. Copyright protected 2014-2018.