New Rates Available On Big Loans For 2020 - Multiple Large Loan Providers Are Competing For Your Business - No Application Fees, All Quotations Are Free & Confidential And All Circumstances Considered
Our customers are from across the UK and have already obtained over £1 Billion in loans for just about any purpose. Advances start at £5,000 and can go up to £200,000, with terms tailored to keep your repayments affordable. Whether your loan preference is big or small - you can use our 25 years of vast experience in the loan and finance sector to obtain big loans to suit your specific and individual circumstances. A big loan can make a huge difference to your household finances through refinancing and avoiding a cash flow void created by other debts that you might not even realise is developing. By taking advantage of the competitive rates we can access on many big loans, you could finally get on with that major home refurbishment, make that special purchase or get on top of your creditors by carrying out some debt consolidation.
Whether it is to aide your finances or it takes you a step closer to reaching a life goal, both can be enriching in their own right and both could be achieved with your tailored big loan plan. With our extensive history and long term relationships with many specialist larger loan plan lenders, we aim to arrange competitive loans for those with good or adverse credit .

call confidentially on
0800 298 3000
(freephone) or
0333 003 1505
(mobile friendly) or complete our 2 minute
on line enquiry form to find out if we can help - without obligation
and receive a competitive free quote, before you miss out on something that could change your life. Let our experienced, respectful UK based loan team provide you with a bespoke and completely free quote, personalised - exactly to what you are after, from our panel of big loan providers. Taking out a large loan is a big decision so we will aim to provide you with free quotes under absolutely no obligation to proceed and instead of putting pressure on you, we will let the numbers do the talking and let you decide if and when you want to go ahead with any big loan offer.
How Much Can I Borrow
What constitutes big loans essentially relates to the amount of money you require, for one person it could be a loan of £15,000 or for somebody else it could be a loan of £200,000. Each case varies and comes down to the individual circumstances. Not only does the amount vary from person to person but the actual amount each person can borrow also varies from each big loan plan to plan and of course from lender to lender. Essentially the amount you can borrow when it comes to big loans comes down to a few key questions:
How many applicants are applying?
What is your annual income?
How much do your regular monthly outgoings add up to?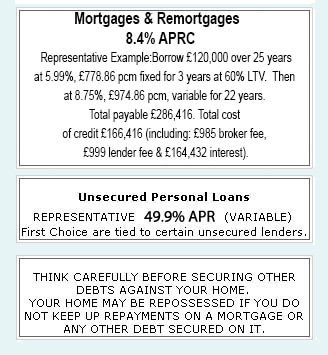 There are a lot of different options and scenarios and it can be a mind boggling experience trying to secure the right big loan. We suggest coming to a capable experienced loan company like ourselves to take all of the unnecessary hassle and stress out of it. Fill in our short online application form or give us a call and we can take it from there.
Big Loans For Homeowners
Along with helping out with covering unexpected or needed major purchases a big loan can also be used prudently to benefit the family home. A loan could be the key to getting that extension that the house desperately needs or even converting the loft just to add a little extra space. Add an extra bedroom to the house and it could also add thousands to your house value, often more than the loan costs in the first place. If you are interested in big loans secured against your property then contact our in house loan team on any of our numbers to see exactly what is available to you, how much it will cost and discover what a big loan could mean to your household.
Big Personal Loans For Many Purposes
Without a fortune teller to hand you can never tell when life is going to throw you a curveball. It could be that winter is coming and your boiler has just blown up, maybe the roof on your house needs replacing or someone accidentally crashed into your garden. Whatever life throws at you, we have to get up and brush it off. Sometimes however, the problem arises when you don`t have the necessary funds to roll with the punches. That is where we can help. We have spend about a quarter of a century specialising in providing any purpose loans for almost any purpose. Let us help you keep moving forward with life and concentrate on the important things without having to worry if you can cover any unforeseen circumstances. Big loans could be the perfect solution and because our quotes are free if you don`t like what we offer you can just walk away.
Big Loans For Bad Credit
By calling on
0800 298 3000
from a landline or
0333 003 1505
from a mobile or alternatively filling in our short online application form we can provide you with quotes for many competitive loan plans. We have plans available for those with excellent credit, fair credit histories and bad credit positions, to suit a variety of individual needs and circumstances. Although you may think you have bad credit, you could be surprised that you are not alone and it may not be as bad as you think. It is well worth giving us a call, even if you have been previously declined we could still help as our seasoned loan underwriters know exactly where to go, to give your application the greatest chance of success from our large loan selection.
If you are looking to take out a larger loan, spreading the cost over a longer period can help you make those monthly repayments more manageable, it is important to note that if you extend the length of your loan you may find yourself paying back more interest of the term of the loan.
THINK CAREFULLY BEFORE SECURING OTHER DEBTS AGAINST YOUR HOME.
YOUR HOME MAY BE REPOSSESSED IF YOU DO NOT KEEP UP REPAYMENTS ON YOUR MORTGAGE.
Security is required on immovable property.
Established In 1988. Company Registration Number 2316399. Authorised & Regulated By The Financial Conduct Authority (FCA). Firm Reference Number 302981. Mortgages & Homeowner Secured Loans Are Secured On Your Home. We Advice Upon & Arrange Mortgages & Loans. We Are Not A Lender.

First Choice Finance is a trading style of First Choice Funding Limited of The Old Courtyard, 103 Buxton Road, High Lane, Stockport, Cheshire. SK6 8DX. Copyright protected.