People who are self employed or contractors can often find it more difficult finding a loan. First Choice Finance are a leading UK finance broker who can help give you access to loans tailored for people who are self employed, business owners, sole traders or sub-contractors. Some lenders prefer people in 9-5 everyday jobs opposed to those with flexible incomes such as people with their own business or people who are contractors, here at First Choice Finance we can help you by using our specialist knowledge, experience and most important of all extensive lender panel to maximise your chances of getting the money you require when you need it. With circa 25 years helping clients who are self employed we understand what the lenders are looking for and the pitfalls and problem people often find when arranging a loan we can help solve these problems and often avoid them all together, all quotes for either loans or mortgages are free and we would be happy to answer any questions you may have. Call on 0800 298 3000 or 0333 003 1505 from a mobile or simply fill in our on line enquiry form at the top right of the page and we will call you
Even if you have been refused a loan in the past because of being self employed or maybe you or your business may have a couple of negative marks on your credit file, with access to many lenders we have plans to suit many circumstances, from low rate loans to specialised bad credit loan deals, contact us for a no obligation confidential discussion about your specific scenario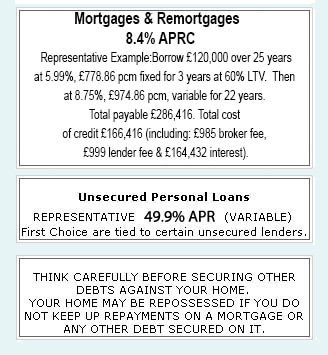 If you are a contractor for one or more companies, some lenders may consider you to be self employed, when trying to arrange a mortgage being self employed may be a drawback with some lenders often preferring people who are in full time Pay As You Earn employment, First Choice Finance can give you access to a number of mortgage and secured loan lenders who have a number of contractor mortgage plans and mortgages for people who are self employed, and with our time in the financial services sector we are here to help you through the mortgage / remortgage process.
If you own or operate your own business then from time to time you may need a cash injection into the company, First Choice Finance have contacts with leading commercial loan and mortgage providers who are able to help you raise money for your company.
Established In 1988. Company Registration Number 2316399. Authorised & Regulated By The Financial Conduct Authority (FCA). Firm Reference Number 302981. Mortgages & Homeowner Secured Loans Are Secured On Your Home

First Choice Finance is a trading style of First Choice Funding Limited of The Old Courtyard, 103 Buxton Road, High Lane, Stockport, Cheshire. SK6 8DX. Copyright protected 2014-2018.