Furthermore the base rates cuts being held has meant that lending rates have stayed low into 2021
and continued competition ensures that plans are still available for a wide range of circumstances.
However accessing this extensive funding is unfortunately not straightforward for members of the public.
Most of this borrowing is only sourced through approved advisers
. As one of the oldest of these, First Choice Finance has been facilitating loans and mortgages in this specialist sector for over 30 years. Enabling our clients to borrow via a multitude of affordable loan options. With a wide selection of approved lenders
we are often able to help UK customers seeking a loan or mortgage, even when they have been let down elsewhere
. These approvals can and do still happen, whether you are a contractor or self employed - be that as a sole trader or a limited company director.
For a fast, free and confidential quote on genuine loan or mortgage rates available to you please call us directly for free on
0800 298 3000
(freephone) or dial
0333 003 1505
(mobile friendly). If you can`t talk right now then simply complete our short
no credit check on line enquiry form
to get the ball rolling.
Video transcript
Self employed loans can prove to be difficult to come by, but First Choice Finance could help you to get hold of the money that you need, whether it`s for your business or personal use.

Independent finance provider Syscap has indicated that the number of official complaints made by small companies about loans and overdrafts had increased by 17 per cent, with failure to renew deals or increasing fees being amongst the most common grievances.

Smaller firms have been hit particularly hard since the financial crash despite it being a while ago, as traditional lenders have tightened up their borrowing criteria, with the self-employed possibly facing additional difficulties getting the loans they require.

While the ability to choose when to work is an advantage of being a freelancer, traditional lenders don`t often see it that way, as it can raise doubts about the borrower`s ability to make repayments.

However, First Choice Finance can help those looking for self employed loans, as we are a broker that has access to an extensive selection of secured or unsecured loans for you to find a secured loan, personal loan or second mortgage that is suitable for your individual circumstances.

All you need to do is fill in a simple online form and one of our loan underwriters will seek out a deal that will be presented to you on a no-obligation basis, so you can decline the offer at no cost. If you`re happy with it though, the money will be arranged and transferred to you as promptly as possible.
Find out more about self employed loans that can be used for virtually any purpose by applying to us via firstchoicefinance.co.uk, calling 0800 298 3000 from a landline or 0333 003 1505 from a mobile.


Self Employed Loans Or Finance For Debt Help

Debt can build up in the background from credit cards, small loans, payday loans and overdrafts without us even realising it. Especially so perhaps if you are self employed or a new business starter or a contractor as you may be distracted from managing your own day to day finances because of the work needed to keep you self employed business going and making sure your employees are getting paid and your business can meet its bills. Take a look at our Self Employed Loan Options . Sole traders and limited company directors alike can need debt consolidation and there are many lending solutions out there that can enable you to borrow from £3,000 to £150,000 to get in control of your finances and ease your cash flow, so you can focus on running your business. Loans for the self employed can be unsecured or secured on property. Self employed unsecured loans tend to go up to around the £15,000 mark from our panel, secured self employed & contractor loans can go up to £150,000 subject to the equity you have available to provide loan security and of course meeting affordability criteria.


What Are The Best Borrowing Options For Contractors?
Can I Get A Loan For Business Use If I Am A Self Employed Sole Trader?
Is A Loan Taxable?
Can I Get A Loan For A Car I Use For Work?
Can I Secure A Loan On A Business Asset?
What Are The Best Borrowing Options For Contractors?
Contractors have access to many of the same borrowing options as the rest of our clients, these include: -personal unsecured loans, home owner loans, mortgages, remortgages and secured loans for self employed / contractors. Here at First Choice Finance we have lenders who do not automatically exclude contractors or those that are self employed, these plans look at your case as a whole and make a decision on merit. In many case we are able to arrange competitive rates on loans for contractors as well as mortgages and remortgages. In some instances business finance may be more suitable especially if it is for equipment or tools you need to carry out your work. We also have strong relationships with lenders who offer business finance. Whatever your needs and circumstances and however much you wish to borrow please feel free to call
0800 298 3000
or enquire via our short form to First Choice Finance and we will use our 30 years of experience to help your cause.
Can I Get A Loan For Business Use If I Am A Self Employed Sole Trader?
Yes there are a number of loan options for sole traders and those of you who are self employed, much of the finance we offer can be used for almost any purpose, but it is important to note that as a sole trader you will be liable for the debt even if the business is not a success, so it is important to consider taking out business finance as personal debt. For more information and a no obligation free quote please contact us at First Choice Finance and we can discuss options available for you.
Is A Loan Taxable?
No a personal loan is not taxable. Also if a loan is taken out for business use then the interest charged may be able to be offset against any profits, but it is important to talk these implications through properly with your tax professional. If you borrow money from your own business as a loan then this may be taxable as this could taxed a dividend if not administered correctly
Can I Get A Loan For A Car I Use For Work?
Yes taking a loan out via First Choice Finance can be used for almost any purpose but using a car for business / work has a number of tax and insurance implications and it is important that you fully understand these before embarking on any finance.
Can I Secure A Loan On A Business Asset?
Good news here! - There are a large number of lenders available who would consider lending money against a business asset, these include commercial mortgage lenders who will lend money against your business premises or some lenders may secure it against your vehicles or machinery that your business uses, for more information and a no obligation free quote please contact us.
Borrowing For The Self Employed
Are You Self Employed Or A contractor? Have You Had Difficulty Obtaining A Loan Or Mortgage?
First Choice Finance Have 25 Years Experience, Get A Free Quote On Loans & Mortgages Tailored To Suit You
People who are self employed or contractors can often find it more difficult finding a loan. First Choice Finance are a leading UK finance broker who can help give you access to loans tailored for people who are self employed, business owners, sole traders or sub-contractors. Some lenders prefer people in 9-5 everyday jobs opposed to those with flexible incomes such as people with their own business or people who are contractors, here at First Choice Finance we can help you by using our specialist knowledge, experience and most important of all extensive lender panel to maximise your chances of getting the money you require when you need it. With circa 25 years helping clients who are self employed we understand what the lenders are looking for and the pitfalls and problem people often find when arranging a loan we can help solve these problems and often avoid them all together, all quotes for either loans or mortgages are free and we would be happy to answer any questions you may have. Call on
0800 298 3000
or
0333 003 1505
from a mobile or simply fill in our on line enquiry form at the top right of the page and we will call you
Even if you have been refused a loan in the past because of being self employed or maybe you or your business may have a couple of negative marks on your credit file, with access to many lenders we have plans to suit many circumstances, from low rate loans to specialised bad credit loan deals, contact us for a no obligation confidential discussion about your specific scenario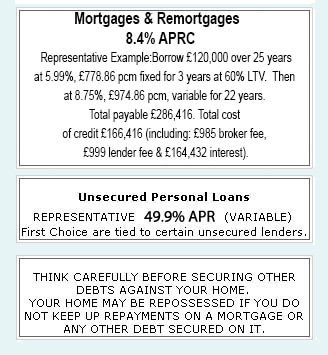 If you are a contractor for one or more companies, some lenders may consider you to be self employed, when trying to arrange a mortgage being self employed may be a drawback with some lenders often preferring people who are in full time Pay As You Earn employment, First Choice Finance can give you access to a number of mortgage and secured loan lenders who have a number of contractor mortgage plans and mortgages for people who are self employed, and with our time in the financial services sector we are here to help you through the mortgage / remortgage process.


If you own or operate your own business then from time to time you may need a cash injection into the company, First Choice Finance have contacts with leading commercial loan and mortgage providers who are able to help you raise money for your company.



THINK CAREFULLY BEFORE SECURING OTHER DEBTS AGAINST YOUR HOME.
YOUR HOME MAY BE REPOSSESSED IF YOU DO NOT KEEP UP REPAYMENTS ON YOUR MORTGAGE.
Security is required on immovable property.
Established In 1988. Company Registration Number 2316399. Authorised & Regulated By The Financial Conduct Authority (FCA). Firm Reference Number 302981. Mortgages & Homeowner Secured Loans Are Secured On Your Home. We Advice Upon & Arrange Mortgages & Loans. We Are Not A Lender.

First Choice Finance is a trading style of First Choice Funding Limited of The Old Courtyard, 103 Buxton Road, High Lane, Stockport, Cheshire. SK6 8DX. Copyright protected.