Are you looking for the cheapest loan available? First Choice Finance is a leading uk Finance Business who over our many years arranging loans and mortgages have established ourselves to be amongst the industry longest trading, with a large selection of lenders we are able to help you match your circumstances to a loan deal at the lowest interest rate possible. It is important to note the loan rates may vary and the cost of your loan will depend on your individual circumstances, but if you have a good credit record you may be surprised how cheap some of our loans are.
How Do You Decide The Cost Of The Loan?
Each loan provider has different criteria. When you apply, as a finance broker we search our panel to find the lowest rate from our any purpose loan plans, with our knowledge and experience First Choice Finance is a great place to start your search for a cheap loan
Common Criteria Used Include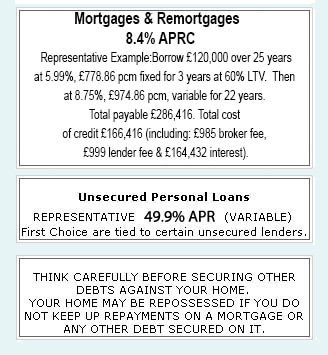 Credit Profile - When you have missed payments on your existing debts (credit cards, utility bill, mortgage, other loans), this is recorded with credit agencies and will impact the loans available to you if you have multiple black marks on your credit profile you are unlikely to be eligible for one of our cheap loans, but we still may be able to help as a finance broker we have many loan deals suitable for people with an adverse credit rating we are always happy to answer any questions and whatever your situation we will compare the different loans available to find the cheapest loan for your requirements.
Length of time at current address - If you have been at address for long time and you are registered on the electoral role, this can prove beneficial in getting you the best loan deal for your circumstances.
Employment Status - Again if you have held your current job for a reasonable time, this gives the lender the confidence that your income circumstances are stable, it is for this reason people who are self employed may incur a slightly higher rate of interest on there loan, but again we will still search for the lowest rate from our panel and make the application procedure as smooth as possible.
Loan amount and loan term - You often find the larger the amount you borrow and the longer the length of the loan agreement the lower the interest rate you will be charged, i.e. if you borrow £30,000 your rate could be lower than borrowing £15,000. It is important to realise by borrowing more money and by lengthening the loan term your monthly repayments could be lower, but you will pay back more interest over the term, why not try our loan calculator to see different scenario`s
Homeowner or Tenant - If you are a homeowner you may have access to additional loan plans not available as well as the option of remortgaging, as a homeowner you will often find loan rates to be cheaper and loans more available.
Whatever your circumstance we will try to find the cheapest loan plan, we also have a number of mortgage plans from number of mortgage lenders, so you are able to look at both the home owner loan options as well as the potential of remortgaging, all quotes are free and you will be under no obligation to proceed.
Established In 1988. Company Registration Number 2316399. Authorised & Regulated By The Financial Conduct Authority (FCA). Firm Reference Number 302981. Mortgages & Homeowner Secured Loans Are Secured On Your Home

First Choice Finance is a trading style of First Choice Funding Limited of The Old Courtyard, 103 Buxton Road, High Lane, Stockport, Cheshire. SK6 8DX. Copyright protected 2014-2018.