Through 25 years of consolidation debts we know that having the burden of outstanding debts hanging over your head doesn`t help anybody. We all want to clear our outstanding debts but without a large cash injection like an inheritance or even winning the lottery, it isn`t quite that easy. First Choice Finance can provide effective and competitive solutions to your debt problems through methods of debt consolidation & refinancing. Over the years we have helped countless clients take the necessary steps to becoming debt free or to refinance their debt burden to be able to cope with the payments.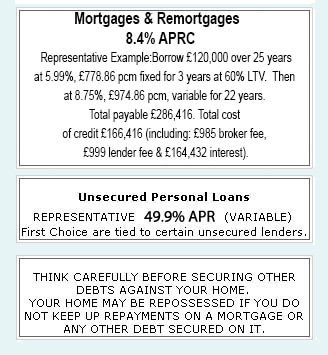 It can be as simple as restructuring your finances with the help of a consolidation remortgage or a second mortgage and you can once again take charge of your own cash flow. If you are looking to be the master of your finances again through debt consolidation then you have come to the right place. Our expertise can give you access to some of the best interest rates on the market whether you just need £3,000 or anything up to £100,000 we will always do our best to help and any quotes will be provided for free and without obligation. Take a step towards financial control and give us a call on 0800 298 3000 (landline), 0333 0031505 (mobile) or alternatively fill in our one minute on line form and we will come back to you.
What Does Debt Consolidation Achieve?
The idea of consolidating debt has been around long before most of us even realise. It even beats our 25 years in the finance industry. So if debt consolidation has managed to last this long, what is it that makes it an ideal solution to some peoples debt problems? We have compiled a short list of what you might be able to achieve if you feel that debt consolidation through a remortgage, second mortgage, mortgage or homeowner secured loan is the right route for you to take:
One Manageable Monthly Payment Instead Of Many
This payment is likely to be lower than the combined monthly minimum payments of multiple credit cards. It also makes it easier to keep on top of your finances and make sure that your outstanding debts repayments do not end up being missed, this can occur to any of us when you currently have too many bills to pay and keep track of throughout the month.
Save On Lower Interest Rates
Often a large factor of outstanding debts are credit cards and store cards. Credit cards are known to have high interest rates and only making the minimum payments will cause the debt to increase and if the capital outstanding remains the same it will never get paid off. Pay day loans, door stop lenders and log book loan companies rates are even higher still quoting hundreds or even thousands of percent interest. Interest rates on remortgages or even second mortgages and secured loans can often be substantially lower than many of these.
Restructure Your Finances To Improve Cashflow
Streamline the bills you pay each month and change your cashfow from neutral or negative to positive. If your income is totally gone by the time you get paid again or is even running out before then so you have to use credit cards or overdrafts to meet your bills then your cashflow is neutral or negative. Debt consolidation is aimed to get your monthly outgoings below your income, thereby putting you into positive cashflow, this could even provide you with the choice to save or invest that money elsewhere and further benefit your financial situation and help you be prepared for a rainy day... or month!

Debt consolidation can be a great financial tool to help resolve your debt problems but it isn`t for everyone. Always make sure you are going to see a genuine monthly benefit if you go ahead. Check the relative figures and how much you are paying back, being especially aware that by elongating the period you pay debts back over you are likely to pay more back over the term of the mortgage or loan. Mortgages, second mortgages and homeowner secured loans need to be secured on your home or another property that you own, perhaps a buy to let you rent out. Finally bear in mind a lifestyle change often will be needed to see any long term benefit from consolidating debts and this form of refinancing is not something you can keep doing over and over again. Basically you should work on the premise you get one chance to set yourself straight and be disciplined enough to realise that you have to spend less than you earn to avoid deeper problems further down the line.
Debt Consolidation Remortgages
Debt consolidation can come in many different shapes and sizes. Consolidating your debts through the use of a remortgage can be an efficient way to sort those pesky debts once and for all. You may find it useful to use our remortgage calculator to see what sort of payments may be feasible. Here are some pros and cons of debt consolidation mortgages:
Advantages
Easier to manage single monthly credit payment to make each month
Refinance your debts on competitive and low interest rates
A remortgage usually provides lower rates than for a secured loan or second mortgage
Disadvantages
If you are tied into a fixed rate or discounted product on your mortgage. The early repayment charges involved in leaving the mortgage provider could be costly
Normally when remortgaging you keep the existing term you had on your previous mortgage
E.G. If your mortgage term has 15 remaining this could mean spreading your consolidated loans and card payments over 15 years
Moving unsecured debt to secured debt through a mortgage or secured loan adds a new level of risk whereby the lender new lender now has security for that money over your property
Using A Homeowner Secured Loan Or Second Mortgage To Consolidate Debt
Using a debt consolidation remortgage or refinance mortgage isn`t your only option and here at First Choice we want to make sure that as a customer you are aware of all of the options available to you. Sometimes a debt consolidation loan is a more favorable debt solution depending on your circumstances. Our site has a loan debt consolidation calculator which can help you see what paying off your creditors in this manner may mean. Here are a few reasons as to why it may, or may not be an option for you to consider:
Advantages
You do not need to repay your existing mortgage and take out a new larger one
This can be key if you are currently on a great deal or if you are liable for Early Repayment Charges
The term of a secured loan / second mortgage doesn`t have to coincide with your mortgage term, which means it can be paid off much earlier, especially as loan ERC`s tend to be lower
Disadvantages
Secured loans, otherwise known as second mortgages or homeowner secured loans are constructed as second charges over your property, this means that the lender, willing to loan you the money is second in line for the property if anything goes dramatically awry
As they are second behind your mortgage lender, secured loan lenders products come with higher interest rates than equivalent mortgages to compensate for that risk
A secured consolidation loan means that although you have hopefully consolidated your debts into the one payment for the loan, you will still have two significant payments to make. Your mortgage payment and your secured loan or second mortgage payment
If you would like to talk through your debt consolidation options our considerate advisers would be more than happy to help. Just give us a call on the above number and we can help you come to a decision, there could be an obvious option for your circumstances and we can provide you with free quotes to look at, before you make a decision.
How Much Debt Can I Consolidate?
Choosing to raise finance to consolidate your debts can have lasting beneficial effects if carried out correctly. An average amount borrowed through this on a homeowner secured loan can often be around the £18,000 to £25,000 mark, but our plans go from just £3,000 to £150,000 dependant upon your requirements. Remortgages start at a total new mortgage advance of just £10,000 to £1.5million. Both debt consolidation remortgages and debt consolidation secured loans can provide effective routes to consolidate debt and provide real, workable solutions to your debt problems. The decision to opt for either route we will be based entirely on your situation and your wishes. Our finance advisers are here to help you navigate this tricky area and make a decision, call our team on 0800 298 3000 (landline), 0333 0031505 (mobile friendly) or fill in our short on line form at the top of this page and start getting back in control of your finances.

Whilst you are weighing up your options you may wish head over to our calculators pages. We have developed consolidation calculators, mortgage and remortgage calculators as well as loans repayment calculators. There is even a loan to value calculator to help you establish what your LTV is now and what it could be after you have consolidated your bills. Our calculators allow you to fill in all of your existing debts and choose a rate at which you pay them back at. Our calculators then crunch the numbers and let you know what your new repayments could be after debt consolidation. Once you know this information you can start to think about budgeting and how it might fit in with your household income going forward.
Established In 1988. Company Registration Number 2316399. Authorised & Regulated By The Financial Conduct Authority (FCA). Firm Reference Number 302981. Mortgages & Homeowner Secured Loans Are Secured On Your Home. We Advice Upon & Arrange Mortgages & Loans. We Are Not A Lender.

First Choice Finance is a trading style of First Choice Funding Limited of The Old Courtyard, 103 Buxton Road, High Lane, Stockport, Cheshire. SK6 8DX. Copyright protected 2014-2018.