When you apply for finance with a bank or a specific individual lender they will only search for a suitable loan or mortgage from their own selection of loans, and if you don`t meet their criteria then you will be declined finance. This does not mean they are poor service providers or bad businesses, it is just because they have their own target customers which their lending criteria is geared to accept. First Choice Finance were established in 1988 and are a finance broker - this means we have access to lots of different loan and mortgage providers and in depth experience at matching the lenders we know with the clients who want us to help. With hundredes of different plans, some specifically for people who have County Court Judgements, Mortgage Arrears, Credit Defaults or are Self Employed, whatever the reason you may have been refused finance for, we may still be able to help
Reasons You May Be Declined Finance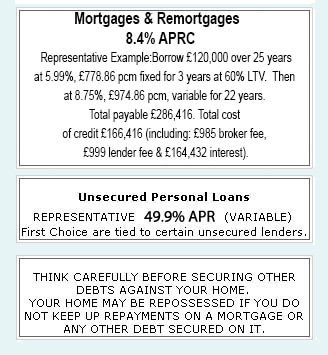 Credit Profile - If you have missed mortgage payments, late charges on your credit cards or personal loans, CCJ`s or unpaid bills, all these are tracked on your credit file which lenders look at before granting finance. With many banks and building societies a bad credit rating will result in being declined your loan or mortgage application. Here at First Choice finance we give you access to specialist lenders who may accept a number of negative marks on your credit profile, we will work with you to find the best plan to suit your needs and work to get the loan or mortgage approved.
Self Employed / Contractor - If you are a self employed person or contractor then finding finance can sometimes be more difficult, as you are required to prove your income and expenditure, we have specialist self employed / contractor mortgages and loans from lenders who have lots of experience granting finance to the self employed and we will work with you to make the application process as painless and smooth as possible.
Age - Have you been turned down because you are too old or too young? - we have finance options from the age of 18 upwards to 85 years old. For example, if you are over 55 we have mortgage lenders on our panel who offer mortgages for those older clients, we also offer equity release and have a number of equity release schemes available
Not a homeowner - Although we specialise in home owner loans and mortgages, we are able to give tenants access to finance as well through one of our partners who offer personal finance and guarantor loans, like us our partners have access to many lenders, so even if you have been declined for an unsecured loan in the past we may still be able to help get you back on track.
First Choice Finance Helping You Get Approved For A Loan Or Mortgage
Here at First Choice Finance we give you access to a wider choice of finance products, scouring around our different lenders for the plan that most suits your needs and requirements. Offering a flexible service we are able to help people find finance deals that are sometimes out of the ordinary. If the finance requires something different we`re there for you, to help you through the finance options, we pride ourselves on friendly and efficient service and do not believe in any high pressure sales tactics. We will show you what we can offer then you choose whether to go ahead or not

For more information and a no obligation free quote please don`t hesitate in calling us on any of the numbers or simply fill in our 1 minute online enquiry form at the top right of this page and lets get the ball rolling.
Established In 1988. Company Registration Number 2316399. Authorised & Regulated By The Financial Conduct Authority (FCA). Firm Reference Number 302981. Mortgages & Homeowner Secured Loans Are Secured On Your Home

First Choice Finance is a trading style of First Choice Funding Limited of The Old Courtyard, 103 Buxton Road, High Lane, Stockport, Cheshire. SK6 8DX. Copyright protected 2014-2018.