How can you refinance to ease your cash flow? For the last 25 years we have been helping our customers to refinance through various lending solutions. Essentially there are many different ways you can refinance and there are many different ways that it can benefit your financial situation. One of the key advantages of refinancing is that it can significantly help to ease your cash flow by reducing your monthly outgoings as a whole. This could reduce stress levels and enable you to start saving again. Whether you are at a point where you are starting to struggle when it comes to making your payments at the end of each month, have actually fallen behind on payments and have arrears or you simply want to save money on your current mortgage so you can build a nest egg, refinancing could be the answer.
What Debt Solutions To First Choice Offer?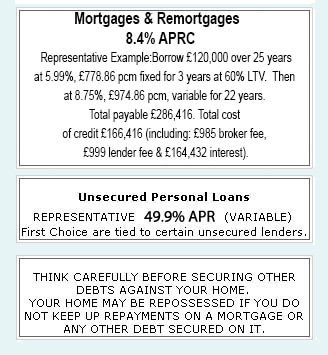 With a quarter of a century experience in the loan and mortgage market we are perfectly placed as an established mortgage business to help talk through your refinancing needs, providing you with options which can lower your monthly payments. We give advice on debt consolidation mortgages, offer in house provision of secured homeowner loans for debt repayments and have access to personal or guarantor loans through our close associates. If you want to pay off your creditors and get back on top of your cashflow by rolling all your debts into one loan spread over a longer period to give you breathing space then to get a free quote call our free phone number from a landline on 0800 298 3000 or our mobile friendly number from a mobile on 0333 003 1505, otherwise fill in our short, straightforward on line enquiry form and we will call you.
Ways To Refinance Explained
Refinancing your current outgoings is a way to potentially lower the interest rates compared to some of your credit items and lower the monthly payments that you are making on these debts by rolling them up into one straightforward and manageable monthly payment. The different ways you can refinance will achieve this to varying degrees. The most prominent methods of refinancing are:
Using a personal loan of up to £15,000 over a term of up to 5 years, this option can be used by homeowners and tenants.
Taking out a remortgage on your home and raising additional funds to pay down your creditors. Amounts raised as additional funds can go from just £2,000 to £150,000, with terms from 5 to 35 years. This is only available to homeowners, either owner occupied and / or those who own buy to let properties
Utilise a homeowner secured loan for debt consolidation. These are secured on homes much like a mortgage but sit behind your mortgage as a second charge. Amounts vary by lender, your credit history and the equity in your home. Products start at £3,000 and go up to £150,000, terms are usually available from 3 years up to 25 years maximum. These are for homeowners or mortgage payers.
Getting assistance from a friend or relative to support your loan repayments if you do not make them means that you can potentially refinance via a guarantor loan. Provided your `guarantor` is a homeowner with an income, they are likely to be accepted which can let you raise the money you need. Amounts usually top out at £10,000 with terms from around 1 to 5 years. These are available to tenants and homowners.
Debt Consolidation Mortgage
Reviewing your mortgage alongside your overall debt position can achieve many things. If you have a number of existing debts outstanding that you have to make large repayments on each month and are finding that household finances are running tight then a debt consolidation remortgage could be just what you are after. By refinancing with a consolidation mortgage it allows you to use some of the existing equity you have available in your home (or even a buy to let property you are renting out) to pay off existing debts that you may have accrued over time. If you are worried that you have little equity available in your property, it is still worth a call to let us see if we can help you. We often have remortgage plans available up to 95% LTV for some customers.
Any Purpose Loan
With 25 years experience in the industry we like to think we can offer our clients a diverse range of products and options. That is why when it comes to the different ways you can refinance, you only need to speak to our finance team to see our multiple lending solutions. Any purpose loans can be secured or unsecured and can be a key tool in refinancing, especially if your current mortgage has penalties if you chose to leave within a discounted or fixed rate period. If this is the case, your needs shouldn`t be put on the back burner. A secured loan, personal loan or guarantor loan might allow you to refinance or even finance a number of major expenses like home improvements or buying a new car. Call our finance team and see what we have available for you without obligation on 0800 298 3000 (landline) 0333 003 1505 (mobile).
Refinance Calculator
When ever you are considering the different ways you can refinance it is vital to not only weigh up all of your options but to fully understand the costs involved and the new monthly repayments you will be faced with. A refinance often saves you money each month; however, if you have used a way of refinancing to raise some extra funds then your repayments, even if they are on a great deal, may actually increase. If consolidation debt it is wise to only borrow what you need to clear the credit, then set the repayments up on your new loan so that you can feel the improvement but are still paying the money back in the shortest time you can afford. This way you will improve your cashflow but limit the amount of additional interest you will need to pay back. Try out our Debt Repayments Calculator to help see what you are paying now and what your payments could be. Once you have an idea then fill in our 1 minute enquiry form (no credit search carried out from this form) at the top of the page and the loan and mortgage team will get back to you to discuss your different refinancing options through First Choice Finance.
Refinancing is one option to tackle debts
Refinancing could be one option for some of the millions of us who have serious debt problems, as the Financial Conduct Authority (FCA) takes over regulation of the consumer credit market. Others may turn to Individual Voluntary Arrangements, Debt Management or family for help.
It`s the Money Advice Service that`s come up with the startling number of people who need to get their finances back on track, ahead of the FCA`s review into the way payday lenders collect their debts and treat those who are in arrears.
Ahead of the year-long study, the FCA has published research findings into low income consumers and has found three distinct types-those who feel they have no option but to borrow, those who use credit for larger purchases or one-off events, and those who limit their use of credit to traditional bank loans and credit cards.
The review is well-timed as the latest figures from the Money Charity suggest that borrowers were paying £162 million of interest alone on personal debt during February, amounting to more than £2,200 (£2,242) per person each year.
You can help to cut down on your annual repayments and interest charges by managing your cash flow and avoiding expensive credit where ever possible. Also try and save up for a major purchase if it can wait rather than borrowing to finance it.
If you feel taking out debt consolidation finance is worth looking into more then get in touch via firstchoicefinance.co.uk or call us on 0333 003 1505 or 0800 298 3000 and talk through your scenario with a member of our team.
 
Established In 1988. Company Registration Number 2316399. Authorised & Regulated By The Financial Conduct Authority (FCA). Firm Reference Number 302981. Mortgages & Homeowner Secured Loans Are Secured On Your Home

First Choice Finance is a trading style of First Choice Funding Limited of The Old Courtyard, 103 Buxton Road, High Lane, Stockport, Cheshire. SK6 8DX. Copyright protected 2014-2018.