What are the different types of mortgage interest rate? During our 25 years of experience we have realised that whilst there are a few basic indicators which give you a general idea of what certain rate names may mean, there are some more mysterious ones that go along with them too. Essentially the interest rate indicates the rate at which you can borrow money on your mortgage and it is important to understand the basics. Beyond that, it does get a little tricky, bit that is why we are her to explain the rates charged on mortgage products.
No one would expect you to be experts in the mortgage rates field, but no doubt you may well have your own specialised knowledge. To help you with the mortgage rate basics read on, our brief explanation of mortgage interest rates will get you up to speed and help you make an informed decision with the mortgage you are about to take out. Once you feel comfortable with the ideas and numbers involved, give us a call on 0333 003 1505 (mobile friendly) or 0800 298 3000 (landline), alternatively fill in our short no obligation on line enquiry form so our advisers can call you. We know mortgages are a big commitment we you can talk through your specific needs with one of our experienced mortgage advisers, who can then give you all the facts and figures via a free quotation so you can then decide what to do next. You will be able to see how the mortgage interest rates slot into place and how that might affect you and your possible mortgage.
Paying The Interest On Your Mortgage
The idea behind a mortgage is a fairly simple one, you borrow money to buy a house. Normally with any loan you take out, you will be charged interest on the amount you have borrowed. It is always helpful to have an idea of how it is calculated. The rate reflects how much extra money you will pay back on the amount borrowed in one year and is expressed as a percentage of the capital sum outstanding, this is therefore called an annual percentage rate.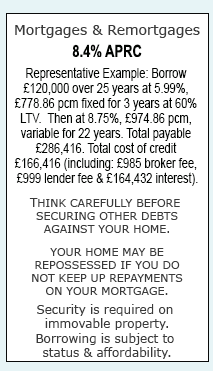 Even more importantly you should understand how the mortgage interest rate affects what you will be paying back. To find out the mortgage repayments on a variety of loan amounts with differing interest rates head over to our Mortgage Calculator page. Having an example of mortgage repayments can give you a better idea of how a change in interest rate will affect you and your mortgage.
Fixed Rate Mortgages
As the name suggests, a fixed rate mortgage fixes the annual mortgage interest rate that you are paying on the loan for a set period of time. This is normally 2, 3 or 5 year periods but others are available with certain mortgage deals. If you like the idea of being able to strictly budget your household finances a fixed rate will allow you to know exactly what you are paying each month. However, because the lender is guaranteeing a rate for a set time they can often be a little more expensive. However should rates move up in the market place your repayments will not change until the end of your fixed rate period. Once the fixed rate period finishes you will normally be put on the lender`s standard variable rate, but most advisers will be aware your current deal is coming to an end and will help you re-assess the products available to you at that time. Most fixed deals have early repayment charges built in which can be a barrier to moving your mortgage before the end of the fixed period, however once the charges are no longer applicable or are low this then it is important to revisit your mortgage to ensure you are getting a good rate for your circumstances. Here at First Choice if you are an existing customer we will work with you shortly before your rate ends to discuss what options are available for you from our panel of lenders. To get a good idea of the fixed rate mortgages we have call the adviser team on 0800 298 3000 (landline) or 0333 003 1505 (mobile friendly).
Variable Rate Mortgages
In contrast to a fixed rate mortgage, with a variable rate mortgage the interest rate can change at any time. To further confuse matters there are a number of different variable rate options you can have, which one you get will depend on your needs and circumstances along with the lenders specific products. The most common is probably a variable rate tracker mortgage, this interest rate moves directly in line with another one, usually the Bank of England base rate or the London Inter Banking Offer Rate (known as LIBOR). So if your lender deals `tracks` the BoE base rate and it increase by 0.5%, so would your tracker rate and your repayments. As you can imagine this can pose problems if you have a tight budget each month, however, if the rate is low as it currently is, you could have a particularly low repayment each month. When explaining mortgage interest rates it is a good idea to look into a few of the options available. Other variable rate mortgages include capped rate mortgages which have a maximum that they can go to but cannot go over – that is the `capped` element, to ensure that the rate can never rise above a certain level. There are also discounted rate mortgages that give a very low repayment for the early part of your mortgage as a special offer introductory period. Of course this means that you are not reducing down the balance very much at the beginning of the mortgage so after the discount ends you will notice a step up in payments. Our advisers will happily talk through all this with you without any obligation for you to proceed.
Getting The Best Mortgage Interest Rates Available
The mortgage market can be a bit of a maze to say the least. In a vastly competitive, rapdidly changing market, banks, building societies and specialist lenders are always updating the products and deals they have on offer. Whilst this is great for getting a great deal, it can be confusing when it comes to picking the right deal for you. Coming to an experienced mortgage company like ourselves, ensures that you will be exposed to the most suitable deals for your individual needs and circumstances from the mortgage products we have available at the time. An understanding adviser will also help you look carefully at any costs or offers involved with a mortgage. They will advise you if there are any early repayment charges involved, when your discounted period ends and even give you an explanation of mortgage interest rates as a whole. When you are ready to get the numbers for your specific project simply fill in our 1 minute online application form starting at the top right of this page and we will get back to you.
Established In 1988. Company Registration Number 2316399. Authorised & Regulated By The Financial Conduct Authority (FCA). Firm Reference Number 302981. Mortgages & Homeowner Secured Loans Are Secured On Your Home

First Choice Finance is a trading style of First Choice Funding Limited of The Old Courtyard, 103 Buxton Road, High Lane, Stockport, Cheshire. SK6 8DX. Copyright protected 2014-2018.