As a UK finance Broker First Choice Finance have over 25 years arranging loans, mortgages and remortgages, with an extensive panel of lenders for both secured loans and mortgages we use our expert knowledge to compare the different finance deals and match the best finance plan to your needs and requirements. all quotes are free and we will be happy to answer any question you may have, with no obligation for you to accept any offer of finance we may give you.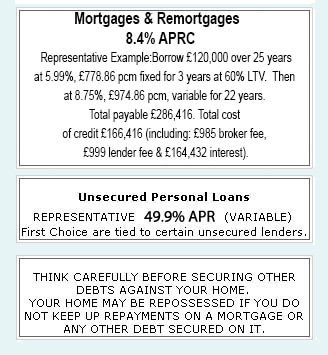 Ideal for borrowing larger amounts (usually between £5,000 up to £100,000) a secured loan can be used for almost any purpose, from making improvements to your home or buying a newer car or consolidating your debts into one manageable monthly repayment. Secured loans are often also available if you have an adverse credit rating, if you have been declined a personal loan, a secured loan may be an alternative option for you.
Mortgages
Giving access to mortgages and remortgages from a wide selection of mortgage lenders (including many high street banks) First Choice Finance are able to find a mortgage to suit most circumstance from looking to find a low rate mortgage plan or helping people find a mortgage if you have a bad credit rating or been declined in the past, you will get no obligation help and advice tailored for your unique circumstances. First Choice Finance also have detailed knowledge of the different schemes and promotions offered by the lenders as well as the government, including first time home buyers programs designed to help you get a foothold on the property ladder. As well as helping first time buyers we are also able to help people arrange mortgages and remortgages for there buy to let properties, helping people find the best rates for there rental properties or release equity to expand their property portfolio.
Unsecured Loans
If you are looking for a smaller loan amount, a tenant or not wanting to secure a loan on your property an unsecured loan may be the best choice of finance for your needs and requirements, usually offered between £1,000 and £15,000 an unsecured loan can be used for almost any purpose for more information please enquire online for you free no obligation quote.
Guarantor Loan Plans
If you have a very bad credit rating you may find it very difficult arranging finance, First Choice Finance can help give you access to a selection of lenders who offer guarantor loans, these are loans offered to some one under the condition that it is guaranteed by someone else.

Why Use A Finance Broker
Using a finance broker have many advantages, firstly as a finance broker First Choice Finance have a panel of lenders some of which are unavailable on the high street this allows us to compare different loan and mortgage plans enabling us to choose a plan tat is suited to your individual circumstances. Another advantage to using a Finance Broker you will be given a dedicated mortgage adviser or loan underwriter, this is a valuable resource helping you find the best plan from our panel of lenders as well as helping you answer any question you may have, a Finance Broker is also helpful in processing your loan or mortgage application helping avoid those pitfalls people often face when arranging finance.

First Choice Finance offer both secured loans and mortgages, this allows us to look at both options and give you appropriate advice in choosing which is best suited to your needs.
Established In 1988. Company Registration Number 2316399. Authorised & Regulated By The Financial Conduct Authority (FCA). Firm Reference Number 302981. Mortgages & Homeowner Secured Loans Are Secured On Your Home

First Choice Finance is a trading style of First Choice Funding Limited of The Old Courtyard, 103 Buxton Road, High Lane, Stockport, Cheshire. SK6 8DX. Copyright protected 2014-2018.