Highest Loan To Value Purchase Mortgages And Remortgages - Low Rate Loans From £5,000 To £150,000 - Release Your Equity With An Equity Release Plan
With 25 years aiming to secure the best bad credit mortgage rate we can find for your circumstances, we know that getting a competitive mortgage rate can save you money on a monthly basis. Saving money wherever you can is important, especially if you have existing bad credit and are looking to turn the corner and get back on top of your finances. Many people with less than ideal credit may have transferred on to their lenders standard variable rate at the time their initial rate period ended, believing that their low credit score or rating will prevent them from refinancing to a better rate. This could be a common misconception that may not always be true.
The fact is, there are some mortgages out there for people with bad credit and we could try to help you secure some surprisingly competitive mortgage rates. The older the bad or adverse the better, for example some of our mortgage lenders will accept clients with defaults that are over 2 years old. However there are homeowner secured loan plans on our panel that allow you to raise money that you need even if you have very recently defaulted. Saving money now can help to prevent missed payments in the future, the idea is if you can get into a positive cash flow position then you can begin to repair your credit and get your self back onto the best rates in the market . If you think you may like to get some help in this situation now, please don`t hesitate to contact us. Here at First Choice we have access to multiple bad credit mortgage rates and mortgage rates for good credit ratings alike. Our customers come with a variety of credit history`s to match the realities of life, so it is highly likely we will have seen your circumstances before and will be able to tell you quickly and without obligation if we can help
If you are looking for a mortgage, a remortgage or even an any purpose loan fill in our on line enquiry form and we will get back to you with some of the mortgage and even second mortgage rates on offer.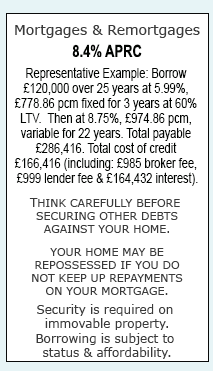 Alternatively contact us on 0800 298 3000 (landline) or 0333 003 1505 (mobile friendly) to talk through your individual scenario.
Bad Credit Mortgage Rates Explained
A bad credit mortgage is a mortgage that is suitable for those people with a low credit score, often either because they have no active credit or more commonly because they have existing bad credit that is less than four years old. A lot of bad credit, such as defaults and arrears that are older are actually ignored by lenders, so you may not even have bad credit in this instance. However if your credit issues are within the last year or so then you are likely to need a mortgage plan which allows for adverse or poor credit. In most cases they are similar to standard mortgages but simply have slightly higher rates and allow slightly lower loan to values. It makes sense that bad credit mortgages often carry bad credit mortgage rates, as they are lending to consumers who from a raisk point of view are deemed more likely to have some blips when paying them back. They offset this risk by offering a slightly higher rate and can charge fees for having access to the adverse credit remortgage or mortgage plans. The rates vary widely but fortunately for you there are a number of lenders fighting for this quite large component of the market and so it helps keep the rates down due to competition. Rates are very specific to an individual or couples exact position to find out what we can offer through a free quote, speak to our adviser team or fill in the short enquiry form.
Bad Credit Mortgage Rates In Action
Bad credit mortgage rates work in exactly the same way as a regular mortgage rate would, just often with a slightly higher figure. Below are some illustrations but it is very important to realise the mortgage market changes all the time as do rates and plans so the only way to get a real figure for your scenario from us is to speak to us:
If you were looking to borrow £70,000 over 25yrs, at 70% LTV on a mortgage with a High street bank you may be able to secure an initial rate of around 2%:
Mortgage capital and interest total monthly repayment= £298.79
If you were looking to borrow £70,000 over 25yrs, at 70% LTV on a mortgage with a Specialised adverse lender and you had a number of bad credit items you may be able to secure an initial rate of around 4%:
Mortgage capital and interest total monthly repayment= £373.40
Do You Need A Bad Credit Mortgage?
You may have recently tried to get a mortgage and found that a few places have knocked you back. The chances are either you have no active credit, or more likely you have some bad credit on your credit file. Your route to remortgaging can be far easier if you already know what you are dealing with, but how do you know? If you have had any missed mortgage payments, defaulted on credit cards or loans, incurred CCJs, been in a debt management plan in the last few years or been in an IVA, or been declared bankrupt at all years it will likely restrict your lending options. Even applying to multiple lenders in a short period of time can affect it. There may be no need to reduce your rating even more, a refinance can help to repair your credit, not affect it further. Have a short no obligation conversation with us and we will give you a good indication of whether we can help or not before we ask to carry out any credit search.
Debt Consolidation Mortgage
Bad credit can often stem from outstanding debts. Fortunately there are many competing mortgage plans that go hand in hand with a consolidation mortgage or debt consolidation remortgages. Realising that your credit bills are getting out of hand is the first step to getting back on top of your cashflow and helping in what can be a stressful time. For more information regarding these mortgage plans contact our adviser team or click to read more on Debt Refinance Remortgages
Bad Credit Home Loan
Aqua credit card has apparently found that 18 to 24-year-old women from the East Midlands are the most likely demographic to be refused credit, but whoever you are, First Choice Finance can help you to apply for a bad credit home loan.

That`s because it doesn`t matter to us if you have an impaired credit rating, as we are there to help you get the finance you need and have access to a large range of deals which means that we may be able to find one for you that`s suitable for your individual circumstances.

The most common reason for gaining a bad credit rating is not completing previous payment agreements things like store cards and credit cards. There are other things you should look out for as well, like doing lots of credit checks recently or opening more than a couple of credit accounts in the previous six months. County Court Judgements affect you credit worthiness as do mortgage arrears, both should be avoided or settled as soon as possible.

All of these things are recorded and may put off potential future lenders, but so long as you are committed to repaying any monies you borrow First Choice Finance will try to help you find the ones who will lend you the money you need.

You may want the bad credit home loan to help you purchase something necessary like a new car or you may intend on using it for debt consolidation, or paying of some defaulted accounts or arrears to start repairing your credit profile. This would be structured so your new home loan would pay off your current and old credit to leave you with a lower, more manageable repayment to make each month.

Just be wary of the fact that different rates and conditions may result in you paying more in interest as a result of having longer to pay off what you owe. The benefit primarily is cash flow, so as with many things it is about getting the right balance.

Find out more about bad credit home loans at firstchoicefinance.co.uk or call us from a landline on 0800 298 3000 or from a mobile on 0333 003 1505 and tell us about your needs.
Established In 1988. Company Registration Number 2316399. Authorised & Regulated By The Financial Conduct Authority (FCA). Firm Reference Number 302981. Mortgages & Homeowner Secured Loans Are Secured On Your Home. We Advice Upon & Arrange Mortgages & Loans. We Are Not A Lender.

First Choice Finance is a trading style of First Choice Funding Limited of The Old Courtyard, 103 Buxton Road, High Lane, Stockport, Cheshire. SK6 8DX. Copyright protected 2014-2018.