The Loot group have been successfully enabling you to find virtually any item you wish to buy or advertise anything you want to sell for decades. Whether you are after something special to enhance your home or garden, a newer car, a caravan, an overdue holiday, some white goods or even locate a house to buy or rent out - they have all bases covered. That is why with our 25 years of experience in helping UK consumers raise the money they wish to spend on exactly what they want, First Choice could really help Loot customers get the right loan or mortgage to meet their goals. Furthermore all our loan quotations are provided for free and without obligation whether you have a good, fair or poor credit history, you only go ahead with what we can do if you are happy with the figures.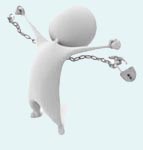 To break those financial chains that are holding you back and find out what funding options are available to you call our helpful in house finance team on 0800 083 9623 (free from a BT landline) or 01663 761 663 (included in mobile plan minutes), alternatively simply fill in our short enquiry form and we will call you in confidence.
What Are First Choice Able To Offer You?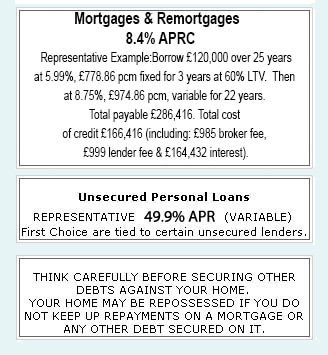 The products we are able to offer for your consideration include most aspects of finance and the money raised via these loan plans can be used for any purpose. Whether you are looking for £500 to get a new bed, £2000 to refurbish your kitchen, £ 3000 to get some new wheels, £6,000 for the holiday of a lifetime, £15,000 to do some debt consolidation, or £150,000 to buy a new home, move house or buy a property to rent out (buy to let) we have competitive lending solutions for all of these scenarios. In fact due to our experience there probably are not many scenarios or loan purposes that we have not come across.
As a high level summary below are listed some of the more popular loan options we can arrange;
Personal Loans


Very popular for small to medium purchases. These can start with funds of around five hundred pounds with the maximum usually from ten to fifteen thousand pounds. Loan terms run from just one to five years. Therefore large amounts can result in high monthly payments due to restricted time frames. The availability of the cheapest plans is subject to having a good credit rating. Although there are lenders offering loans usually up to £7,500 at alternative elevated rates for those who have unfortunately incurred some bad credit.

These appear to be growing, at least in terms of prominence, with various companies advertising their wares. Terms run from 12 to 60 months and cash advances start once again around £500 and go up to between £5,000 and £10,000 dependant on the type and credit status of your guarantor. As your credit status be it poor, fair or good will likely be accepted provided you have some sort of regular income. The key aspect to grasp here is that the loan you take out needs to be backed up by a second person, they will agree to cover the payments but only in the event that you fail to make them and it is their credit profile and tenure that will decide whether you get the money or not. Friends, partners, relatives or colleagues can all be guarantors - two key areas to bear in mind though
Firstly, it is better for your guarantor to be a homeowner as more lenders will consider them and the larger loans are available.
Secondly, your guarantor cannot already have any shared credit items with you, such as a joint bank account or credit card, most guarantor lenders will not allow this.

Homeowner Secured Loans


Homeowners, mortgage payers and buy to let landlords who want a longer loan term or larger amounts can look at secured personal loans. These start around £3,000 and can go up to an estimated £150,000. They offer longer repayment terms going from 25 years down to about 3 years as a minimum. These come into play mainly where larger amounts are needed and the customer needs to spread the repayments to keep them affordable or where the customer has had some adverse credit in the past and cannot get an unsecured loan. Poor credit items that affect your ability to get unsecured loans include defaults, county court judgements, missed credit payments and mortgage arrears. Secured loans can have a more flexible approach to people in these scenarios however the risks of such loans are very much the same as those associated with any mortgage as they will need to be secured on your home or another property you own, so make sure you consider all options and only borrow what you can afford to pay back.

Purchase Or Home Mover - Mortgages & Remortgages


Whether you are looking to remortgage to a fixed deal because you are worried about rate rises, wish to raise some extra funds to renovate your home by releasing your equity through a remortgage or are looking to step onto the property ladder and buy your first home our advisers can discuss mortgage plans from our panel of mortgage providers to suit all these scenarios. In addition if you want to become a landlord or release some of your investment from your portfolio our Buy to Let purchase mortgage or remortgage products could match your needs and requirements. Even If you have not managed to keep your credit history squeaky clean through the trials and tribulations of life and unfortunately have incurred some bad credit then still all may not be lost, for example these credit blips only affect your credit file for so long and there are mortgage lenders out there competing for your business in any case, have a read about our Poor Credit Mortgage Plans or give us a call on 0800 083 9623 and you may be surprised at what you can get access too.
Established In 1988. Company Registration Number 2316399. Authorised & Regulated By The Financial Conduct Authority (FCA). Firm Reference Number 302981. Mortgages & Homeowner Secured Loans Are Secured On Your Home

First Choice Finance is a trading style of First Choice Funding Limited of The Old Courtyard, 103 Buxton Road, High Lane, Stockport, Cheshire. SK6 8DX. Copyright protected 2014-2018.