The burden of carrying unwelcome payments on debts that have built up comes to most of us at some stages during our lifetime. Often it is through no fault of our own, we perhaps have a period of illness or unemployment, get put on short time, split from our partners or just end up overspending on family and loved ones perhaps utilising credit that has been made available to us a little too easily. The first thing to grasp is that if any of these scenarios are in line with your current circumstances then you are not alone, millions of consumers battle through debt and credit issues every month, fighting to make ends meet whilst putting food on the table and trying to get some of life`s little treats in the mix.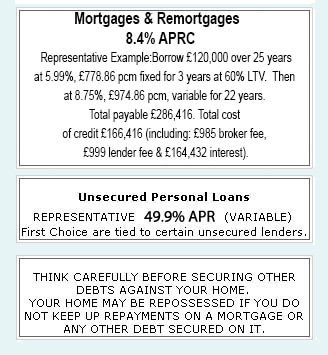 The second thing to bring to the front of your mind is that there are ways by which some people are able to get to grips with their debts, there are a number of different ways this can be done. Unfortunately not everyone will find a route that can fix all of their issues, but many can and so it is worth taking a close look at exactly where you are at and considering what may be done to relieve your debt pressures. First Choice Finance has been talking to and working with clients who have debt pressures for around 25 years and we specialise in providing lending solutions to consolidate your existing debts into one manageable payment by paying off your creditors and having a new single payment per month through either a loan or a remortgage. Terms are usually longer to keep the payments more manageable and you are likely to pay more interest over the term of the loan. This solution is not for everyone but could be for you. To find out what your debt consolidation loan or mortgage options are through us please give us a call at your convenience on 0800 298 3000 (landline), or 0333 003 1505 (mobile friendly) alternatively fill in our short no obligation on line enquiry form and our team of finance advisers will call you.
Managing Debts By Knowing Your Financial Position
Whilst we all hoped it would be that easy, managing and clearing your debts isn`t quite as simple as just taking some medicine to make the pain go away. Whilst it is often an ongoing process that can be both stressful and time consuming, you can get help managing your debts. Here are our top tips:
A.Establish what your actual debts are and how much each one is costing you per month. Write down (or if you like use ourdebt help calculator which will add up the numbers for you…..) the name of each credit card, store card, loan or overdraft that you and / or your partner has and have a column for the current balance outstanding and a column for how much you pay on it per month. Check your latest statements from the providers and your latest bank statement to get the exact figures.
B.Work out what your total household income is. Get a real feel for what money comes into the house very month, include any lodger / adult kids paying rent, child benefit, working tax credit, basically every pound that comes in that you can control write it down and add it up.
C.Now take the total payments from the first exercise from the total income from the second exercise and this will tell you how much money you ``currently`` have left each month to run your household, pay bills such as rent or mortgage, run the car, eat, go out and so on.
D.Ok, this next exercise is about establishing what we have not yet written down, that is your monthly outlay on every day bills, rent / mortgage, council tax, water rates, energy bills,food, lottery, cigarettes and so on, put them all down as a monthly total current payment.
Now compare this figure (from D, your household expenses) to the one above (C) which is how much you have left after your monthly debts have been paid. If your household monthly figure, D, is higher than the figure C, then you are currently in a `negative` cash flow position which you are unlikely to be able to sustain your current commitments without defaulting on some bills or credit items. So try looking at some debt solutions or reducing down any of the luxury items on your list and remember to try to keep up to date with payments, late or missed payments often attract charges and will impact on your credit profile. If you are not in a negative cash flow position then on paper you are at this point` positive` cash flow and should just try to reduce outgoings where possible and repeat this exercise to keep on top of your financial position. If you want to look at debt help through a refinancing loan or debt consolidation remortgage through First Choice then give us a call on any of our numbers or fill in our short form at the top right of this page.
Managing your debts can be both mentally and financially taxing, but the key thing to remember is doing nothing may only make the problem worse. By coming to an experienced finance company like ourselves we can share that burden with you, tell you if we can assist, provide you with a free quotation and then make the process as smooth and stress free as possible. With our help, you could work towards a financially stronger future and even help improve your credit rating if the increasing debts had already caused you to fall behind on your repayments. Please bear on mind that having adverse or poor credit does not always mean there are no options out there for you.
Established In 1988. Company Registration Number 2316399. Authorised & Regulated By The Financial Conduct Authority (FCA). Firm Reference Number 302981. Mortgages & Homeowner Secured Loans Are Secured On Your Home

First Choice Finance is a trading style of First Choice Funding Limited of The Old Courtyard, 103 Buxton Road, High Lane, Stockport, Cheshire. SK6 8DX. Copyright protected 2014-2018.