Many people feel that with ongoing economic uncertainty, getting a mortgage now is harder than ever before. That said if you come to a company with 25 years experience in the loan and mortgage sector like ourselves, we can steer you in the right direction, whether it be for a remortgage or purchase. An understanding of the market and the lenders can make a world of difference when you are trying to get a mortgage.

Read on to see our top tips on getting a mortgage, the different circumstances that we can help with, be it getting a mortgage if you are self employed or maybe trying to get a mortgage with bad credit and what you might need before a mortgage can be put in place. If you think you are ready to go, then give us a call on the above number and our friendly advisors will help you start your journey to getting a mortgage.
Do You Need A Mortgage?
When looking at mortgages, we should first establish if you need to get one. A mortgage is simply a loan secured against a property. So do you need or want to get a mortgage?

There are few questions we could ask to establish whether that is the case:
Are you looking to get on the property ladder?
Do you need to remortgage?
Are you looking to make some home improvements?
Are you looking to extend your property portfolio?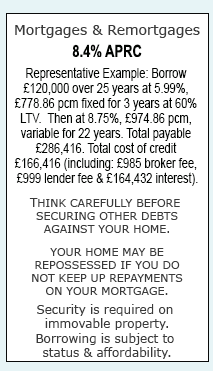 If you have answered yes to any of these questions then you are on the right track. If you are in the right circumstance we could organise a first time buyer mortgage, a debt consolidation remortgage, a buy to let purchase or even an any purpose loan. If you would like more information on these specifically please see our other pages. Alternatively fill in our online application forms and one of our qualified advisors can give you a call. Please remember to always borrow responsibly, getting a mortgage is a big financial responsibility and should not be taken into lightly.
What Do You Need To Secure A Mortgage?
Now we have established whether you want to get a mortgage we can see whether you fit the criteria that the lenders need. Getting a mortgage is one of the most important financial decisions that you will ever make and rightly so, the lenders who will be borrowing you the money, want to make sure that you are in a position to to afford getting a mortgage.

What you need:

Before you can begin to get a mortgage to buy a house you will need a deposit. This can range from 5% upwards depending on your product and lender. If you own a home already the deposit can be from the sale of that, if not you will need some saving or family help.

You need to fit the lender`s affordability

You need to pass the lender`s credit score

Some lenders may also ask for extra requirements, for example, getting a mortgage on a buy to let may not require income but if you are a first time buyer looking to get a mortgage then you will likely be asked for income and proof of where your deposit has come from. It is unlikely that two mortgage applications will ever be the same and because of that, what you will be required to provide can change from person to person. If you have a deposit for a purchase mortgage or equity in your property for a remortgage then give us a call on the above number and we can figure out the rest for you. It is our job to ensure that getting a mortgage is as easy as it can be for you, right up until the mortgage completes and the money is in your back pocket.
Getting a mortgage isn`t just for those people with a perfect credit score. Yes, it may be slightly more difficult or you may have to face higher fees or rates from the lender but they are available. We understand that the last few years have been uncertain for UK consumers as a whole and people may have struggled with maintaining payments on there household finances. Having missed payments, or defaults for example will impact your credit score but that doesn`t mean it will always close the door to finance. We may even be able to help where others have let you down as we have exclusive deals with specialist lenders that deal predominantly with getting mortgages for people with bad credit.

Having bad credit is not the end of the road, and getting a mortgage could set you on the right track again. Before you right yourself off give us a call on the above number or fill in our online application forms and let us see if we can help you. You might be surprised at what mortgages are available to you, but you will never know unless you give us a call.
Prior to the credit crunch getting a mortgage when you were self employed was easy enough as you could `self-certify` your income. As this posed many problems for the lender`s self-certification mortgages are no longer available and getting a mortgage if you own a limited company or are self employed or work as a sole trader, can now be slightly more tricky.

Lucky for you, here at First Choice Finance we have used our years of experience to carve our way through the self-employed mortgage market and come out as an established mortgage broker for our customers in this situation. We can look to get you a self employed mortgage or remortgage or even a self employed loan depending on your circumstance. In some cases we could even look to secure a mortgage on your business property as we have developed great relationships with many leading commercial mortgage providers. For more information on self employed loans please head over to our page. There are still many options out there for our self employed customers to get a mortgage so give us a call on the above number and let us see if we might be able to help you like the many others we have.
Established In 1988. Company Registration Number 2316399. Authorised & Regulated By The Financial Conduct Authority (FCA). Firm Reference Number 302981. Mortgages & Homeowner Secured Loans Are Secured On Your Home

First Choice Finance is a trading style of First Choice Funding Limited of The Old Courtyard, 103 Buxton Road, High Lane, Stockport, Cheshire. SK6 8DX. Copyright protected 2014-2018.