Highest Loan To Value Purchase Mortgages And Remortgages - Low Rate Loans From £5,000 To £150,000 - Release Your Equity With An Equity Release Plan
Whether you are looking to buy a new home, remortgage an existing one or invest in a buy to let, the mortgage you choose is likely to be one of the most important decisions. There are hundreds of mortgage lenders currently in the market ranging from small building societies to the high street banks, all offering you thousands of mortgage products to choose from. Getting to know the mortgage lenders and the products they have on offer can be vital in finding the right deal and saving money. Being established in 1988 and so having a quarter of a century worth of experience has provided us with a wealth of know how and information at our fingertips, to find the right mortgage lender for you quickly. Opt for a company with a proven track record and call us on 0800 298 3000 (landline) or 0333 003 1505 (mobile).
What Is A Mortgage Lender?

A Mortgage lender is the financial institution who actually lends you the money you require. In other words the mortgage lender provides the funds for the mortgage that you will use to buy your house, or to pay of your old lender through a remortgage for example. Mortgage lenders will also check your credit and financial information, make sure the property is suitable for a mortgage and will receive monthly payments from you until the end of the mortgage term and the initial money you have borrowed and the interest accrued is paid off.
A mortgage lender can be the final piece of the puzzle when you are looking to purchase a new property.
How Do Mortgage Lenders Operate In The Current Market?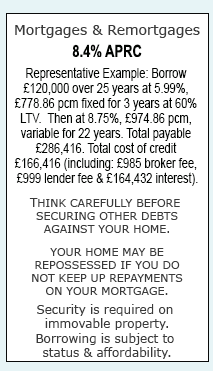 In the current climate, mortgage lenders are frequently changing the way they operate and the products they have on offer to reflect how the market is moving. That is where using an experienced mortgage adviser will help, as they can navigate the mortgage lender maze for you and recommend a product to suit your specific needs. While the recession brought about more stringent lending, it also encouraged specialist lenders to venture into the market. Here at First Choice we have cultivated lasting relationships with many of these mortgage lenders to get access to good and adverse credit plans to ensure our customers can have some of the best products on the market.
An example of the ever evolving mortgage lending market can be demonstrated in a market commentary from the Council of Mortgage Lenders (CML) : ``A pick-up in lenders` risk appetite has seen wider competition for low deposit mortgages.`` This further explains how mortgage lenders adapt to the current economic market. We suggest for example if you are looking to buy a home that you find the right lender and mortgage product before starting the searching process so that you are in a stronger negotiating position and won`t be disappointed if you cannot get a mortgage when you have raised your expectations. It also means that you can lock in a product or rate for a little while before the mortgage lenders refresh them. Fill in our online enquiry form or give us a call to start the process and our in house advisers can try to secure you a great mortgage product.
Mortgage Lending Criteria
Each mortgage lender will have its own lending criteria to help determine the customers who they are willing to lend to and the criteria details the exact the rules that a mortgage underwriter has to follow when they are assessing an application. Your mortgage adviser has to be aware and fit your enquiry to the right mortgage lender criteria to ensure a hassle free journey to your loan completed. Mortgage lenders review their lending criteria frequently, similar to the rates and products they will offer. Lending criteria often revolves around certain aspects, for example:
Income & affordability, what you earn and what do you owe
Age of applicants at beginning and end of mortgage
Property type, property construction and it`s location
Your credit history and your employment status. I.E. Employed or Self employed.
If you are interested in a more in depth example of a particular lenders mortgage criteria, feel free to enquire online or call on the above numbers and our in house advisers will be more than happy to iron out any questions you may have.
Differing Types Of Lenders
There are several mortgage lenders that mainly deal with prime mortgage lending, generally known as the `high street banks or building societies` but with such a broad financial market, many avenues have cropped up to sit in niches in the market and provide mortgages to those that do not want or cannot attain those from the high street. Here are just a few examples:
Prime High Street Lenders Eg.
Halifax
Nationwide
Natwest
Santander


Specialised Lending Eg.
Aldermore
GE Money
Kensington Mortgage Company
Precise
The Mortgage Works
Our finance advisers keep up to date with all of the latest advances from these lenders and more, to try and match a mortgage product to your needs and requirements smoothly and efficiently. There is no obligation to accept any offer we source and we provide free quotations, so when you are ready to start we are ready to help.
Established In 1988. Company Registration Number 2316399. Authorised & Regulated By The Financial Conduct Authority (FCA). Firm Reference Number 302981. Mortgages & Homeowner Secured Loans Are Secured On Your Home. We Advice Upon & Arrange Mortgages & Loans. We Are Not A Lender.

First Choice Finance is a trading style of First Choice Funding Limited of The Old Courtyard, 103 Buxton Road, High Lane, Stockport, Cheshire. SK6 8DX. Copyright protected 2014-2018.