Missed payments on your current mortgage, late charges on your credit card, final warnings on your bills, County court judgments against you? Sadly all these thing will have major impacts on your credit file giving you an adverse credit rating. If you find yourself with adverse credit you could find finding a remortgage much more difficult, many high street banks may reject your application further damaging your credit rating.

Here at First Choice Finance we have an extensive panel of mortgage lenders many of whom have specialist adverse credit remortgage plans, developed to help people in your circumstances, with helpful advice from a qualified mortgage adviser who will search to find best remortgage for your circumstances, all quotes are FREE and we will be happy to answer any questions you may have. Call us on 0800 2983000 from a landline or 0333 003 1505 on your mobile, alternatively fill in our short form starting at the top right of this page to get your free quotation. As a loan and mortgage broker with 25 years experience First Choice Finance does also have other options to remortgaging, in some circumstances a remortgage isn`t always the best solution. If you have early repayment charges or currently on a very low rate that you will not be able to stay on because of your credit profile, in these situations we are also able to look into a home owner loan, this is often a popular alternative to remortgages, you will be able to raise larger amounts than personal loans available on the high street and choose a longer loan term reducing your monthly payments, also in addition homeowner loans are often still available for people with an adverse credit rating.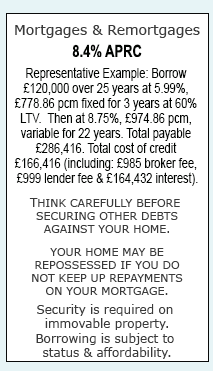 For more information on the different finance options available and no obligation help please complete the simple form above or call free.>
Consolidating Debt With Adverse Credit
If you are having trouble keeping up with your payment then we could help you consolidate your existing loans, credit cards, store cards and other finance into your mortgage, with our range of special remortgage plans tailored to people having credit difficulties, we could consolidate your debts simplifying your finances so you only have one payment each month for all your debts, debt consolidation isn`t always the best option by extending the time you are taking to pay off your debts you may end up paying back more interest over the mortgage term, why not contact us and speak to a qualified mortgage adviser who can discuss your circumstances and give you the figures on your different options, alternatively visit our mortgage debt consolidation calculator.
First Choice Finance - Remortgaging Experts
Over the past 25 years we have worked with many clients searching for the best finance products suitable to there circumstances, as a top mortgage broker, we try to fully understand each customer for a greater understanding of your needs and requirements, and how we can best deliver our professional service tailored to you. With attention to detail and a personal touch you will find us friendly and efficient to make the remortgaging process as simple as possible, for more information please give us a call for an informal chat, we will be happy to answer any questions you may have.
Established In 1988. Company Registration Number 2316399. Authorised & Regulated By The Financial Conduct Authority (FCA). Firm Reference Number 302981. Mortgages & Homeowner Secured Loans Are Secured On Your Home

First Choice Finance is a trading style of First Choice Funding Limited of The Old Courtyard, 103 Buxton Road, High Lane, Stockport, Cheshire. SK6 8DX. Copyright protected 2014-2018.