Moving house can be an extremely stressful experience and if your home life is changing and you are in need of addition room, then an extension to your home may be the answer. First Choice Finance are able to help you raise money for the different extensions you may be looking to carry out on your home.
Loft Conversion - A loft is often an unused area in your property and can make an ideal addition giving you an new bedroom, office or games room, complete our short online enquiry form and get a no obligation free quote on finance for a loft conversion
Building Extension - Adding a new room or extending your house can give you additional room, ideal for creating a larger kitchen or living room, First Choice Finance homeowner loans can be an excellent way of raising money for extending your home
Conservatory - Many conservatory manufacturer`s offer finance on their conservatories, but this may not always be the best option, enquire online to First Choice Finance and we will be happy to offer you a competitive free quote for your conservatory.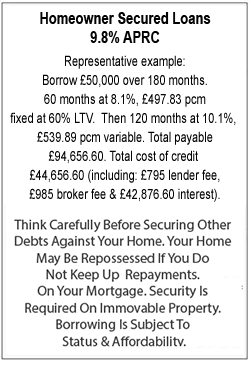 As well as providing finance for home extensions, our homeowner loans can be used for any home improvement / property maintenance project, decorating your home, re-wiring your electrics, simply complete our short online enquiry form and you will receive a no obligation free quote. As well as secured homeowner loans, we are also able to offer remortgage plans that can also be used to raise money for home improvements.

New Kitchen, House Extension, Conservatory, New Windows, Redecorating, whatever home improvements your are making First Choice Finance could help you raise the finance. Improve your home with a First Choice Finance loan!

Whether it is to buy a new dream kitchen or bathroom or maybe to have a conservatory or garage built, any home improvements could add to the value of the home. First Choice Finance could help you arrange finance for your home improvements, we could offer you £5,000 - £100,000 with an First Choice Money secured loan.

Our range of home loans cater for a huge range of circumstances. First Choice have already helped thousands of people over the last 25 years raise money for a variety of different reasons.

Possible reasons for an home improvement loan?

- Redecorating
- Double Glazing
- New Kitchen
- New Bathroom
- Conservatory
- New Boiler
- New Driveway
- Garden Landscaping
- Conservatory
- Building Extension
- New Garage
- Loft Conversion
- Structural work on your home

Whatever home improvements you are thinking of carrying out, big or small, First Choice Finance could help you arrange the finance.

Borrow £40,000, with a homeowner loan - For £40,000 you would be able to carry out extensive renovations and extensions for your home, enquire online and get a no obligation free quote on £40,000 loan or any other amount you may need to raise.
Established In 1988. Company Registration Number 2316399. Authorised & Regulated By The Financial Conduct Authority (FCA). Firm Reference Number 302981. Mortgages & Homeowner Secured Loans Are Secured On Your Home

First Choice Finance is a trading style of First Choice Funding Limited of The Old Courtyard, 103 Buxton Road, High Lane, Stockport, Cheshire. SK6 8DX. Copyright protected 2014-2018.