Highest Loan To Value Purchase Mortgages And Remortgages - Low Rate Loans From £5,000 To £150,000 - Release Your Equity With An Equity Release Plan
How much can I borrow? - This is one of the biggest questions when it comes to securing a homeowner loan, remortgage or purchase mortgage and is of key importance whether the home loan is going to be suitable for what you want it for and ready when you need it. Nobody wins if the mortgage or loan is not available for your situation, which is why it is important to establish how much you should be able to borrow so you can work within a realistic budget. Having been in the loan and mortgage industry for around 25 years we can usually give you an idea of how much you can borrow right off the bat. Fill in our short
on line enquiry form
or call us on either our free phone number
0800 298 3000
or mobile friendly number
0333 003 1505
just to get an idea of how much you can borrow. Only if the numbers sound good you can decide to proceed with an application we will also provide you with a free personal quote to show you the exact facts and figures before you decide to take out the home loan or mortgage. Normally loans are available from just £3,000 to £100,000 and mortgages from £10,000 to £1.5million.
How Much Can I Borrow On A Mortgage?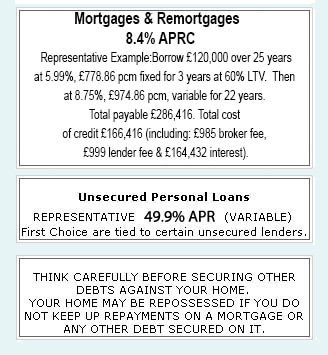 Whilst considering the question `How much can I borrow` it is just as important for you to be realistic about how much you need. Loans and mortgages are not free and therefore when looking into getting finance have a good idea of what you really need and only borrow that, the more you borrow the more interest you will have to pay. At least when speaking to an adviser there is no more guessing, just a clear number so you will know where you stand before you make an offer on a home, or reserve your conservatory. With simple questions we can quite quickly get you a decision in principle from on a mortgage plan that will clarify how much the lender is willing to lend you on a mortgage.
If you are looking at remortgaging your home then the maximum loan to value (ltv) available at the time of writing is around 95% of the value of your house.
If you are looking to move house or buy your first home then the minimum deposit needed is usually around 5% of the selling price.
Please bear in mind the lower your deposit amount on a purchase mortgage or the higher ltv you remortgage too, then higher the lending rate will normally be. So save as much as you can for a deposit or remortgage to the lowest ltv you need to get enough for your project to keep costs down both ways. Each mortgage product weights the underwriting questions differently and our vast experience helps us to get you through the mortgage maze and find out exactly how much you can borrow.



How Much Can I Afford For A House?

As already mentioned when looking to capital raise, or raise for debt consolidation with a mortgage, remortgage or secured loan it isn`t just important to establish `how much I can borrow` but also vital to understand how much you can actually afford. When you apply to ourselves we will carry out an affordability test to ensure we feel we are putting you in a better situation financially. The lender will also do the same as it forms part of the decision with how much they are willing to lend to you. Some of the questions you might want to ask yourself revolve around, if you have any savings in place to cover any unexpected monthly outgoings, whether your income is likely to change at all, even taking a closer look at how much you are spending on your weekly shop will help both you and us to build a bigger picture on whether you can afford the amount that a lender is saying you can borrow. If you need help with any of the questions simply give us a call on the above numbers or enquire online and get some no obligation, confidential qualified advice.



Mortgage Calculators

Whilst looking at how much you might be able to borrow and how much you can afford to borrow, head over to our mortgage calculators pages to let the numbers fall into place. Our loan to value calculator in particular can help you establish what LTV you are working with. LTV also has a big affect on how much you can borrow as the lenders may cap it at a certain percentage depending on your circumstance.

Decisions are far easier when you have the numbers in front of you. Let our expert mortgage calculators break down the numbers for you, when you have a good idea that this is what you are after, contact us on the above number or fill in the short form starting top right of this page so we can get you much closer to successfully raising your money via an any purpose loan or mortgage.



Loan Calculators & Amounts

The question: `How much can I borrow?` Doesn`t only relate to mortgages. Maybe it isn`t a mortgage that you are after, that doesn`t make it any less vital to know what you can borrow. If you have a current mortgage in place on your existing property, you could look into a homeowner loan, taken out as a second charge on your property. A secured loan can be an option if you have a great rate on your current mortgage but still want to carry out some capital raising or if there are some hefty early repayment charges on your mortgage perhaps because you recently remortgaged or went for a very long fixed rate deal. To find out how much you can borrow for a secured loan fill in our short online application form and one of our helpful loan underwriters will contact you regarding your enquiry, alternatively give us a call. It is astute to establish how much you can afford as well as establishing how much you can borrow with a homeowner loan, you might want to have a go on our loan repayment & consolidation calculators to get an idea of the figures involved.



Calculating what you can afford to borrow using a secured loan

Video transcript

If you`re considering borrowing money, you want as many facts as possible first so you may want to consult a secured loans calculator before you make any decisions.



Borrowing money is always a big decision and perhaps even more so when you take out a secured loan.





Our secured loans calculator enables you to see payments on amounts from £3000 to £100,000 so you`ll have a good idea about how much you`ll be paying back each month.





You`re able to do this with a secured loans calculator without committing to any loans, so you can play about with it to your heart`s content – change the amount you want to borrow up or down until you get to a repayment level you`re happy with or alter the repayments term longer or shorter to see how much you can afford to borrow.





You can also use a secured loans calculator to play about with the desired APR rate, which is how much interest you`ll pay.





That way, when you get offered a loan, you`ll have a good idea about how the interest rate will affect your repayments.



If you`re planning on using the homeowner loan to reduce your outgoings through debt consolidation, you`ll want the calculator to show you a payment that`s lower than the amount you`re paying now, although bear in mind that if you keep the loan for the whole term, you could pay more in interest.

Once you have used the secured loans calculator or are read to find out what your specific payments would be without obligation, call the finance experts at First Choice Finance from a landline on 0800 298 3000, using a mobile call 0333 0031505 or fill in the short on line form.






Homeowner Secured Loans
Rates From 7.1% APRC Representative Example £30,000 over 72 months @ £679.90 repayments. Total payable of £49,949. 20.1% APRC including £2,975 intermediary fee and a £995 lender fee. Loans secured on property. First Choice are tied to certain loan providers.


Mortgages & Remortgages
4.5% APRC
Representative Example: Borrow £80,000 over 25 years At 4.6% Variable, £461.95 for 300 months.
Total Payable £138,585. Total Cost Of Credit £58,585 (incl £1360 fee).





Unsecured Personal Loans
REPRESENTATIVE 49.9% APR (VARIABLE)
First Choice are tied to certain unsecured lenders.




THINK CAREFULLY BEFORE SECURING OTHER DEBTS AGAINST YOUR HOME.
YOUR HOME MAY BE REPOSSESSED IF YOU DO NOT KEEP UP REPAYMENTS ON A MORTGAGE OR ANY OTHER DEBT SECURED ON IT.
Security is required on immovable property.





Established In 1988. Company Registration Number 2316399. Authorised & Regulated By The Financial Conduct Authority (FCA). Firm Reference Number 302981. Mortgages & Homeowner Secured Loans Are Secured On Your Home. We Advice Upon & Arrange Mortgages & Loans. We Are Not A Lender.

First Choice Finance is a trading style of First Choice Funding Limited of The Old Courtyard, 103 Buxton Road, High Lane, Stockport, Cheshire. SK6 8DX. Copyright protected.