Are you looking to secure an interest only mortgage for your home or one that you own but do not live in? If this is the case First Choice Finance have access to an exhaustive selection of products and lenders for interest only mortgages that may be just what you are after.
So What are Interest Only Mortgages?
With an interest only mortgage your monthly payment only pays the interest charges on your loan- you are not actually reducing the original mortgage balance itself. So at the end of the mortgage term the original loan amount will not have decreased and you will still owe the money that you originally borrowed from the lending company. Clearly you would hope that the property value has increased to offset some of the money you have invested in it but property prices, as we all know, can go up and down. This is why it is vital that you have a repayment vehicle in place to repay the loan at the end of the term. This could for example, be an endowment policy, a savings plan or an ISA.

A property can be a great investment and taking out an interest only mortgage on a buy to let property could be a great idea, if you are in a position to do so. If you are looking to become a landlord and have every intention to sell the property at the end of the mortgage term, interest only mortgages can provide lower monthly payments that can be used on home improvements to achieve a higher rent or could be invested elsewhere. For more details on our buy to let mortgages or home improvement loans feel free to look at our other pages using the icons above or give us a call.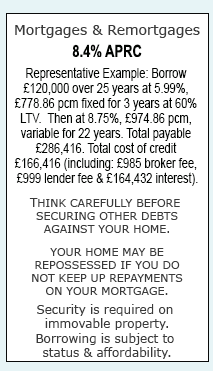 Unfortunately, it is sometimes the case that interest only mortgages get a bad press due to the nature of still owing against the property when the term has finished. This idea is a valid point but interest only mortgages still play a vital role if sold correctly. Here at First Choice you can feel safe in the knowledge that we will try to ensure that if you take out an interest only mortgage with our help that it is right for you. Treating customers fairly is of the utmost importance to us and in conjunction with FSA guidelines, the advice we provide you with will be informed by a proper and thorough assessment of your needs and requirements. Having more been finding mortgages for over 20 years puts First Choice Finance in pole position to help you.

Let us search our mortgage lenders deals for you and see if you are in a position to take out an interest only mortgage. There is no obligation to go ahead and our quotations are free. If it`s not right or you do not like the offers available we can re-assess your situation and see if you would be better placed with some other form of secured finance, be it a capital and repayment mortgage or a part and part mortgage.
How it Works
For example, if you want an interest only mortgage of £100,000 over a term of 25yrs and have found a variable interest rate of 3% (not necessarily a current rate just an example to demonstrate the workings).

Monthly repayment (variable) = £313

Cost of repaying interest only (this will vary as / if the rate changes) = £93,900

Total cost of mortgage = £218,900

Total balance outstanding and due at the end of the term = £125,000.
The Upsides
Lower monthly payments.
Savings on monthly payments can be invested elsewhere and potentially mature to a greater value than what you owe on the property.
Can free up cash to renovate your property and increase its value.
Monthly obligations are smaller so may be able to cope with income dips easier.
The Downsides
You must have a repayment vehicle in place to pay off the existing loan, this may not appreciate (grow) in the way you want it or may even reduce.
You will still owe 100% of your mortgage so any equity you gain will have to be over and above the £125,000 balance still owed on your property.
Your property value may decrease below the amount borrowed on it.
Some lenders restrict the loan to value available on interest only mortgages limiting how much money you can release if remortgaging or requiring you to have a larger deposit if buying.
If you are still unsure as to whether you want to go ahead with interest only mortgages or whether they could be a viable option for you to look at then fill in our online quotation form and one of our advisers will give you a call to take a no obligation look at what alternatives are available to you, or if you want to chat about it now, just give us a call on the numbers shown at the top of this page.
Established In 1988. Company Registration Number 2316399. Authorised & Regulated By The Financial Conduct Authority (FCA). Firm Reference Number 302981. Mortgages & Homeowner Secured Loans Are Secured On Your Home

First Choice Finance is a trading style of First Choice Funding Limited of The Old Courtyard, 103 Buxton Road, High Lane, Stockport, Cheshire. SK6 8DX. Copyright protected 2014-2018.