Outstanding debts can, and often do affect many UK consumers, so for a start at least if you are in that category you can rest assured you are certainly not alone. The country, as a whole had to endure some sticky times and most of us have felt the pressure. As a result many people built up outstanding debts to cover the dip in there finances, often as a necessity to keep there households going. We understand what our customers are going through, anyone can experience debt pressures at times and we want to help get you back on track. Whether it was just a smaller loan to keep to cover a key purchase like a roof repair, or you have amassed thousands on credit cards, a debt consolidation mortgage could cover it all. Not only that but our available products include second mortgages or homeowner secured loans. These can be used for virtually any purpose including debt consolidation and do not affect your existing mortgage, so if you want to leave that alone then this can give you an alternative option. If you would like to consider consolidating your debt with a mortgage fill in our 1 minute online application form or alternatively call us on 0800 298 3000 (landline) 0333 003 1505 (mobile).
Restructure & Refinance With A Debt Consolidation Mortgage
A debt consolidation mortgage enables you to bring several existing debts together into one single payment that is due each month, rather than numerous payments to several different debtors. The idea is that through the refinance you can overhaul your finances and restructure them to a more manageable payment. Consolidation mortgages can help make your monthly budget stretch further and assist the progress of better management of your finances. If you would like a free, no obligation quote to see how your finances could be revamped with a debt consolidation mortgage, feel free to call on the above numbers to speak to a specialized, in house finance adviser or complete our on line enquiry form .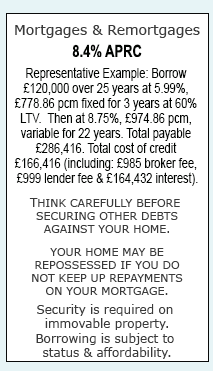 Debt Consolidation Remortgages
If you have equity available in your property and thousands of pounds worth of debt outstanding with particularly high interest rates; say on several credit cards, store cards, personal loans or an overdraft a debt consolidation remortgage can clear the expensive debt and lower the monthly payment. There is also a possibility of lowering the overall amount you pay altogether dependant on the relative rates and amounts. To see if this applies to you specifically, please contact us to talk this through with an experienced finance adviser. All levels of debt can be considered, we can look to raise from £5,000 to millions and above. Yes, if you have the equity available in your property, that much! If you have a good idea of the amount you want to consolidate take a look at our calculators tab, our debt consolidation remortgage calculator can provide you with an idea of payments and costs involved.
Debt Consolidation Mortgage Loans
On occasion, a debt consolidation mortgage or remortgage may not be the best option for you. That is something to discuss with our experienced advisers to establish the best route for your specific situation. We cater to our clients particular needs and requirements, even if it involves suggesting a different route to debt consolidation.
For example, if you have an existing mortgage and have accrued some adverse on your credit file; enough to result in a decline from a high street lender, our poor credit loans can be used in a similar manner as a debt consolidation mortgage. Instead of leaving you with one monthly payment the secured loan acts as a second mortgage that clears the debt rather than securing it on your existing mortgage. It achieves many of the same benefits of a debt consolidation mortgage but rather than one monthly finance payment you hopefully have just the two to pay.
Is A Debt Consolidation Mortgage Right For You?
Things to consider:
Benefits
Reduce your total monthly outgoings therefore, easing some much needed cash flow.
Keep your monthly payments at a low and manageable level.
Less outgoing finances to keep on top of, making it easier to keep up to date on payments.
Only one payment each month to cover all of your finances.


Drawbacks
House prices can go up and down. If you use the equity in your home it may not grow again.
It may well involve extending the term to pay off the debt possibly increasing the overall cost.
If you are in a fixed rate period or other deal you may have early repayment charges to pay.
Established In 1988. Company Registration Number 2316399. Authorised & Regulated By The Financial Conduct Authority (FCA). Firm Reference Number 302981. Mortgages & Homeowner Secured Loans Are Secured On Your Home

First Choice Finance is a trading style of First Choice Funding Limited of The Old Courtyard, 103 Buxton Road, High Lane, Stockport, Cheshire. SK6 8DX. Copyright protected 2014-2018.