Highest Loan To Value Purchase Mortgages And Remortgages - Low Rate Loans From £5,000 To £150,000 - Release Your Equity With An Equity Release Plan
Finally want to finish those home improvements? Looking to borrow money for a new car? Trying to organise a dream honeymoon to go with that white wedding? If you don`t have the money already sat there in the bank, then a low interest loan could be an ideal solution to funding that important purchase. We have access to competitive any purpose loan plans at low interest rates that can provide a cost effective way to raise some much needed finance. Our adept advisers will guide you through the process, all the while finding the best possible deals for your circumstance.
Comparing Low Interest Loans
There are a number of different factors to consider with regards to interest on homeowner loans:
The interest rate you are borrowing at, ours start at 11.9%APR
The amount of money you can borrow, we offer from £3,000 to £150,000
The term of loan available to you, ours are from just 3 years to 25 years to suit you
What you want to spend the money on, our plans are for any purpose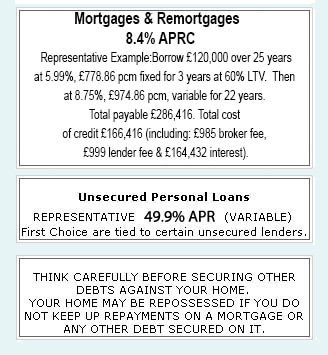 This makes it all the more important that you compare different deals on the market, yet with so many options and products available this can be a daunting task. Comparing low interest loans can save you a considerable amount of money and should not be overlooked but rather than trawling the market yourself, why not give us a call on 0800 298 3000 (landline) or 0333 003 1505 and let us do it for you. Our expert loan underwriters have access to exclusive deals on homeowner loans not readily available on the market and can give you an idea of what your payments could be and whether we can help in minutes, saving you both time and money. It`s win win.
Homeowner Loans
Low interest home owner loans can be a cost effective way of borrowing money, with some of the lowest interest rates offered on the market when taking out finance. A homeowner loan is a debt secured against your property, also referred to as a secured loan or second mortgage due to its nature. The lender has the property as collateral which can be reflected by some quite low rates they are willing to lend at and importantly it enables them to still lend to you if you have some poor credit, are self employed or are looking for a longer term or larger amounts than are usually offered .
With a low interest homeowner secured loan you can typically raise between £3,000 to £150,000, as with most loans the rates may be lower for larger amounts and for those with good credit histories. The key is our lenders plans are geared to cover the wider needs of consumers, so we have plans for good, fair or challenged credit profiles. Even if you have been declined elsewhere First Choice Finance will do our best to get you competitive loan plans for a the amount of money you require, at the lowest rates available from our panel for your circumstance. Fill in our short online application form and we can get working on some no obligation, free quotes for you to take a look over.
Personal Loans
If you are unsure about a secured homeowner loan or you are looking for a smaller sum over a short term then an unsecured personal loan could be the answer. Through our close associates in the personal loan market we can provide our customers with access to low interest loans for tenants, students and homeowners alike. An unsecured loan can act as a flexible and accessible route to affordable borrowing that gives you the freedom to spend the money where you see fit. They are usually available for amounts between £1,000 and £15,000 maximum, with terms of 2 to 5 years. Give us a call on the above numbers to speak with one of our experienced finance advisers.
Low Interest Loans For Bad Credit
If you have been through this process all before and keep finding that you are being turned down by the lenders or high street banks, there is a good chance that at some point down the line unfortunately you have accrued some kind of adverse credit on your credit profile. Whether you have already established that you have bad credit or are just starting to figure it out, you have come to the right place. You are by no means alone, hundreds of thousands of people are carrying some bad credit and so in an ever evolving industry the different lenders that exist in the market now have lending criteria to help people with bad credit get loans that they need and 25 years experience in the industry has afforded us the knowledge to scout out the right plan for you from our lending panel.
Our finance team will work closely with you to find the a matching low interest loan plan for your circumstances. Give us a call on 0800 298 3000 with a landline or on 0333 003 1505 with a mobile phone and let us see if we can actively put in place that low interest loan that you have been looking for.
Established In 1988. Company Registration Number 2316399. Authorised & Regulated By The Financial Conduct Authority (FCA). Firm Reference Number 302981. Mortgages & Homeowner Secured Loans Are Secured On Your Home. We Advice Upon & Arrange Mortgages & Loans. We Are Not A Lender.

First Choice Finance is a trading style of First Choice Funding Limited of The Old Courtyard, 103 Buxton Road, High Lane, Stockport, Cheshire. SK6 8DX. Copyright protected 2014-2018.