Cheshire is an affluent county in the North-west of England. With house prices ranging from £60,000 upwards. First Choice Finance is perfectly placed to aid with mortgages on the whole area.
If you are based in the Cheshire area and have a query relating to a mortgage First Choice Finance is here to help. We don`t believe in charging upfront fees, so give us a call without obligation to see if we can help.
We deal with the whole of the UK and have been doing for 25 years but if that is not enough to convince you and you, like us are based in Cheshire, come in and see us.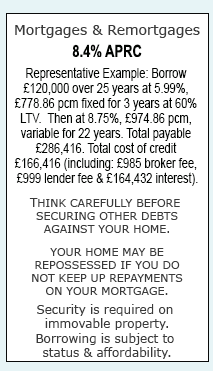 Our friendly and resourceful staff will act as your own personal advisors for mortgages in Cheshire.
Varying loan size and products.
According to Zoopla.co.uk in January 2013 the average asking price for a property in Cheshire was £290,922. However, we understand that not everybody fits the average mould.
So, to give you an idea, here are a few examples of potential mortgages in Cheshire that were available for us to have arranged for you in quarter one, 2013:
 

50% LTV
Remortgage
Interest only
£100,000 Prop. Value
Leeds Building Society

Rate = 2.65% fixed
Monthly payment = £234.64

 

60% LTV
Remortgage
Capital and repayment
£290,922 Prop. Value
Woolwich

Rate = 2.99% fixed
Monthly payment

= £826.84

 

75% LTV
Purchase
Capital and repayment
£1,000,000 Value
Accord

Rate = 2.59% fixed
Monthly payment = £3431.81
* Rates according to Trigold sourcing system as of 21/1/13. Examples change on a regular basis. Ask for a personalised illustration.
Buck the market trend.
When seeking a Cheshire re-mortgage our advisors here at First Choice are equipped with the necessary knowledge and tools, to assess the equity that you may have sitting in your property. Couple that with calculating your debt to income ratio and we have the perfect formula to see if we can consolidate your debts. Never mind providing you with one, easy and manageable monthly payment we may be able to reduce your monthly outgoings all together. Just think, your mortgage payment could be your only payment!
It`s essential to remember that re-mortgaging in Cheshire or nationwide isn`t your only option. Mortgages may be an intimidating route for finance but with us guiding you through the process you'll feel at ease. Purchasing a property can be a great investment that shouldn`t be glossed over as a result of the current economic situation. In January 2013 there were an estimated 9,858 properties for sale in the Cheshire area according to Zoopla.co.uk.
We believe that if you are in a situation to do so, buck the market trend and start to buy. Remember, although low property values may not be ideal for a seller the purchaser could be appropriating a great deal. Whether it is as a Buy to Let, or to purchase as a family home, if you have the capital available look to First Choice Finance to arrange your Cheshire mortgage.
We understand that you might not have a conventional property.
Unlike many counties Cheshire isn`t built up predominantly by adjoining cities, instead it boasts idyllic countryside consisting of a few large towns but more commonly rural villages. Agriculture plays a large role and as a result, so do the farms that the industry so heavily relies upon. Unfortunately this may pose problems for farms looking for a Cheshire mortgage as many high street lenders won`t lend to such premises. Being located here in Cheshire has given us first hand experience trying to arrange mortgages for our clients in this situation, if we can`t find a lender suitable for you, we can pass you on to one of our affiliated commercial finance brokers, who would be more than happy to lend on such properties.
We strive to help you however we can. The customer comes first, even if that means passing you onto to somebody else!
Lenders in the area.
As a company we deal nationwide and are happy to assist clients from England, Scotland, Wales and Northern Ireland. Yet we see the benefits of locating and arranging mortgages right here in Cheshire too.
Not only that but many of the lenders see the advantages also. Aldermore Mortgages and The Cheshire Mortgage Corporation, to name but a few, are none high street lenders that have chosen to base there head offices in the area.
Established In 1988. Company Registration Number 2316399. Authorised & Regulated By The Financial Conduct Authority (FCA). Firm Reference Number 302981. Mortgages & Homeowner Secured Loans Are Secured On Your Home

First Choice Finance is a trading style of First Choice Funding Limited of The Old Courtyard, 103 Buxton Road, High Lane, Stockport, Cheshire. SK6 8DX. Copyright protected 2014-2018.