Here in the UK we have a long tradition of wanting to be homeowners and realise that dream by living in a unique property that is a bit different, as is the case with older period properties and listed buildings attracting many potential buyers.

If you are living in an older property or a have a home or want to buy a home that is listed, you may find your options for a mortgage reduced. This is because some lenders consider `unique or older` period construction properties to be in more danger of structural integrity problems, perhaps purely down to age or even the fact that less is known about key matters such as the depth and material used for the footings of the building. That being said there are still many mortgage lenders willing to lend money to buy an older property or fund redevelopment and repairs, it is just a case of knowing how to find them and source their mortgages.
Due to the special, stand alone characteristics of these unique dwellings people will always want to buy them and therefore there should always be mortgage products available to lend on them.
When looking at a mortgage or remortgage for an older property lenders may need more information and may ask for certain repairs works to be carried out as part of granting the mortgage, this work may well be allowed to be carried out after you have moved in.
Roof Construction On Older Properties
Mortgage lenders could carry out additional checks before they approve your mortgage or remortgage enquiry via specialist surveyors or construction engineers, this is can help to protect you as the borrower as well as the lender, simply because it is better for you to know of any significant issues with your period property before you end up with a mortgage to pay back.
Many older properties may suffer with damage or have wear and tear of the roof and many mortgage providers will need this to be evaluated to ensure that it safe and in good condition, if a problem is found with the roof of the property the mortgage lender may stipulate that roofing work will need to be carried out. Some older properties have different types of material used for the building of the roof, an example of this is a thatched roof, this can put some lenders off, but there are still many mortgage plans still available for homes with a thatched roof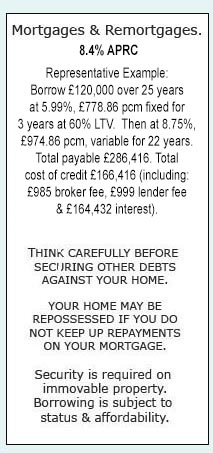 .
Dry Rot / Wet Rot / Woodworm
Older properties can suffer with rot both inside and outside the property, many period properties could lack proper insulation or protective coatings that can lead to rot setting in. A lot of wood may have been used in the frame of the building and if the property has been infiltrated by woodworm the costs of renovation / reparation of the timber, especially if it is key support timer, may be pricey. Again before a mortgage is granted the lender may wish to carry out an inspection and may require you to carry out some essential timber treatment or replacement as a condition of the mortgage. Another way mortgage plans can be affected by unusual properties is a decrease in the loan to value they are willing to offer. This will be dependant upon not just the nature of the construction but also the area the property is in, basically the easier the property is to re-sell the higher mortgage / remortgage LTV may be offered.
Foundations & Footings Of Older Buildings
Nowadays all new builds must adhere to some fundamental building regulations, including depth of concrete base and how far footings must be dug down to. However in older times, homes could have been built without any consideration of modern regulations or with much less stringent checks. If the property cannot seen from its historical documents that is is ensured to meet a stable / safe buildings construction method then the properties foundations may be checked to make sure there are no structural integrity issues, avoiding issues like subsidence. If severe problems are found in the foundations of the property this could be a major stumbling block for the approval of a mortgage, but in some cases underpinning the property may be able to fix this, again this may reduce the amount of money available by the lender.
Frame Work / Construction Material .
Modern properties are constructed out of standard construction materials being usually bricks and blockwork, but historically many different types of material has been used, including timber framed construction, concrete as well as prefabricated or even mud filled cavity properties! Again these different types of construction materials may put some lenders of causing the offer of lower loan to values as well as a smaller number of mortgage plans to choose from.
Maintaining And Repairing Older Homes
It is important to consider the ongoing maintenance costs of an older property, after you have bought your property you will need to ensure it is maintained, it is important to remember that older homes may cost more to keep in good condition and may have more things requiring work over the years that you live in your home.
Whatever the issues faced with finding a mortgage for a period property, First Choice Finance may be able to help you buy or remortgage the period property you desire / already own. We have numerous specialist lenders with experience helping people fund the purchase of unique or different properties. With experienced mortgage advisers we look at each enquiry individually and find a mortgage or remortgage that is best suited to your needs and requirements. Contact us today we are happy to talk through the possibilities and all quotes are provided free of charge, with no obligation to proceed.
Established In 1988. Company Registration Number 2316399. Authorised & Regulated By The Financial Conduct Authority (FCA). Firm Reference Number 302981. Mortgages & Homeowner Secured Loans Are Secured On Your Home

First Choice Finance is a trading style of First Choice Funding Limited of The Old Courtyard, 103 Buxton Road, High Lane, Stockport, Cheshire. SK6 8DX. Copyright protected 2014-2018.