Here at First Choice Finance we search to find the best loan plan to meet your needs and requirements, whether you are looking for short term finance or a long term loan we could help you raise money for almost any purpose. For more information simply complete the short online enquiry form or call and speak to one of our loan experts who will be happy to answer any question you may have
What type of loan do you need?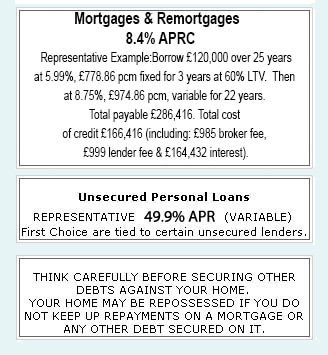 Here at First Choice Finance we give our clients access to a wide variety of loan type these include
Homeowner Loans - ideal to raise larger amounts over a longer period of time home owner loans are often available to people in most circumstances, so even if you have a few negative marks on your credit file or been declined for a loan from the bank you could still be eligible
Personal Loans - Personal loans are often available for both homeowners and tenants, but are often only available for smaller amounts, the maximum you can borrow on a personal loan is about £15,000. Personal loans are often more difficult to get if you have an adverse credit rating but First Choice Finance do have access to a selection of lenders who could help, personal loans are often taken out for shorter periods of time.
Guarantor Loans - If you are having difficulty finding a loan, one option is a guarantor loan this is taken out by someone but are joint on the loan by guarantor who will take responsibility for the loan in the event of non payment.
First Choice Finance will look to find you the best loan for your individual circumstances.
Need A Loan With Bad Credit
As mentioned above here at First Choice Finance we have a selection of loan plans available for people who may find it difficult getting a loan, with no obligation help through the loan process our loan underwriters bring there knowledge and years of experience to find a loan that it suitable for your needs.
Loan Purpose
A loan from First Choice Finance can be used for almost purpose from home improvements, to debt consolidation. Whatever you need to raise money for we will work with you get approved and get the money into your bank account, all loan quotes are free and you are under no obligation to proceed.
Established In 1988. Company Registration Number 2316399. Authorised & Regulated By The Financial Conduct Authority (FCA). Firm Reference Number 302981. Mortgages & Homeowner Secured Loans Are Secured On Your Home

First Choice Finance is a trading style of First Choice Funding Limited of The Old Courtyard, 103 Buxton Road, High Lane, Stockport, Cheshire. SK6 8DX. Copyright protected 2014-2018.