Over our last 25 years of working with a wide range of customers we have come to realise that there are many reasons why you may want to consider a refinance mortgage, but the most convincing is that it can save you money and quite often a hefty amount. It may sound too good to be true, but if you have an existing mortgage then we can look at refinancing it for you and bringing your payments down. Often it can also be seen as a way to release some additional money that you can use for virtually any purpose such as a home improvement project, your special occasion or even for debt consolidation by ending up with smaller or similar repayments, clearing your debts and using any extra funds as you wish.
The simple fact is that many of us may be paying over the odds on our current mortgage deal simply because we haven`t looked at the mortgage rate or reviewed since our home loan was first taken out. Don`t be caught in this trap and consider coming to a trustworthy, experienced refinance mortgage company like ourselves to ensure that whatever your reason for looking into your mortgage options, you get proper advice and support.

We appreciate any mortgage adjustment is a major decision so we give our clients a confidential, free no obligation quotation to let you decide with the numbers in front of you, whether you want to go ahead or not. Call us on 0800 298 3000 from a landline or 0333 003 1505 on your mobile. Prefer to enquire on line or want our adviser team to call you? That`s fine, just fill in our short on line enquiry form and we can look at your options or call you when you have the time to talk.
How Does A Refinance Mortgage Work?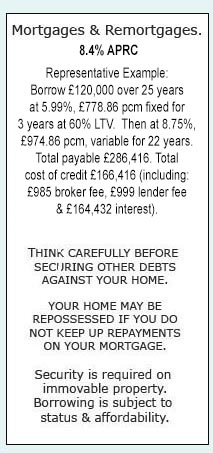 You don`t have to be strained by the whole weight of your monthly outgoings on your shoulders, a refinance mortgage could help. Look to refinancing as a way to ease your monthly payments and relieve some stress from your household commitments.
Refinancing a mortgage means paying off your existing mortgage and replacing it with a new one of a more suitable type or at a better rate. There are many reasons why a homeowner might be minded to do this. For example, the desire to consolidate debt, the possibility of securing a cheaper rate or fixed rate mortgage, the opportunity to release some of your home`s equity or even to pay for a large one off special occasion or purchase. If you are already on a great rate and don`t want to refinance we could still look to raise you money if you require it. Our any purpose homeowner secured loans act as a second mortgage and can be used for just about anything, any purpose you can think of but do not impact on your first mortgage at all.
Refinance Mortgage Rates
Many people first take on a mortgage rate on a fixed or discounted rate period, once this period, normally 2 to 5 years, is over you will revert to the lender`s standard variable rate. If you aren`t careful this rate could be significantly higher than what you had initially secured and continuing to pay your new mortgage repayment may be costing you money. You are not alone by any stretch of the imagination, countless people are unnecessarily paying extra on their mortgage because they have not considered a refinance mortgage.
Over the last few years the Bank of England base rate has been at historically very low figures. This has led to hugely competitive refinance rates. Here at First Choice we offer a free finance review and can provide you with a free no obligation personal illustration to show you exactly how much a refinance mortgage could save you. If you would just prefer to get an idea of what our best refinance rates available are for you, we can do that to. Call us on any of our numbers or fill in the short enquiry form at the top right of this page to get started.
Refinance Mortgage Calculator
Head over to our refinance calculator page to get an idea of how much you could save with a refinance mortgage. If it is a straight swap on your existing mortgage you are after our repayment calculator can give you an idea of what your new repayments could be. If you are looking for a debt consolidation remortgage when you refinance to streamline your monthly outgoings then it is the consolidation calculator you will need. All our calculators are available from the Calculator tab at the top of the page
Can I Still Refinance With Bad Credit?
Your finances can be like looking after a fish tank. If you leave forget to keep on top of the maintenance aspect because you have been busy with other matters, the water will start to get murky,in finance terms as you add more and more debts, credit cards, loans and such like, it creates room for more of the bad stuff to creep in, like missed payments, defaults and negative cashflow. A spring clean every now and then can help to keep the tank looking good but after a while if it isn`t maintained like your household finances, it may descend beyond repair. Bad credit isn`t always a result of an obvious event, or even your fault, sometimes it creeps upon you just like that dirty fish tank. All is not lost, an overhaul of that tank; changing the water, can get it looking crystal clear again. In the same respect a refinance mortgage can put you on the road to a squeaky clean credit file. By using a debt consolidation remortgage as a refinance tool you can pay off those existing `bad` debts and secure your mortgage on a new rate. Potentially saving you money on a monthly basis, bearing in mind you may ultimately pay back more in interest over the term as you spread your repayments over a longer period
We have several options with specialist lenders for both remortgages and secured loans for our clients who want a refinance mortgage or a debt consolidation loan with bad credit. Our experienced finance team can establish the type of deals that will be available for your individual needs with some simple questions. Don`t waste any more time and see if you can save or sort your money situation out, contact us on 0800 298 3000 (landline) 0333 003 1505 (mobile) or fill in our short enquiry form to see how much you can save with a refinance mortgage.
Established In 1988. Company Registration Number 2316399. Authorised & Regulated By The Financial Conduct Authority (FCA). Firm Reference Number 302981. Mortgages & Homeowner Secured Loans Are Secured On Your Home

First Choice Finance is a trading style of First Choice Funding Limited of The Old Courtyard, 103 Buxton Road, High Lane, Stockport, Cheshire. SK6 8DX. Copyright protected 2014-2018.