Highest Loan To Value Purchase Mortgages And Remortgages - Low Rate Loans From £5,000 To £150,000 - Release Your Equity With An Equity Release Plan
Given recent economic uncertainty many more of us have to face the question: `Can I get a remortgage with poor credit?` At one stage, you may have found this answer to be a, `no` more often than not. Having been established for 25 years First Choice have been through a number of peaks and troughs in the market and we can advise you that all may not be lost. In recent times, many specialist lenders have noticed the advantages of operating in the poor credit remortgage market. With new products added every day it is well worth enquiring again. A decline 6 months ago, with the help of our knowledgeable finance advisers could be an accept today. Simply call us on 0800 298 3000 (landline) or 0333 003 1505 (mobile) or fill in our short 1 minute online form and one of our poor credit remortgage advisers will get back to you with your options.
What Is A Poor Credit Remortgage?
Poor credit remortgages were designed to help those with a poor credit rating get a remortgage. You may have also heard them referred to as sub prime mortgages or adverse credit mortgages, they`re all pretty much the same.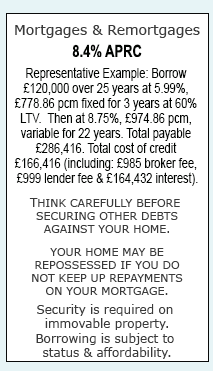 Essentially the fundamental difference from a regular prime mortgage contract, is that instead they are aimed at customers who would normally fail a standard lender credit check, or decision in principle, known in the mortgage industry as a DIP. If you have had past defaults, missed payments, CCJs, or you currently are/ have been in a debt management plan, or IVA, the chances are that this could be you. Our specialised poor credit remortgage advisors can help you first establish your situation and then suggest which products are best suited to your circumstance.
At First Choice we can help release equity from your property with a poor credit remortgage. The money raised from this remortgage can then be allocated towards paying off other, more expensive debts that you may have. This is essentially the idea of debt consolidation. Whether your debt has been built up from credit card balances, secured loans or a second mortgage, personal loans or even utility bills, then poor credit remortgages could effectively consolidate them all. Leaving you with one manageable monthly payment and facilitating a more efficient management of your finances. The missed payments that may have landed you in this position do not have to be carried through to your future and instead your remortgage can help you rebuild your credit score if all payments are maintained. Give us a call on the above number to talk through some of the specialised products we have access to.
Remortgage Vs. Secured Loan
We pride ourselves in putting our customers first. We can assure you that our clients needs remain at the forefront of the application process for the duration. In some cases you may not be able to access a poor credit remortgage with your credit file. This doesn`t have to be the end of the road either and our understanding finance advisers will do everything they can to provide you with other options, and clarify when one route might be more suitable than an other. We have access to several exclusive products with secured loan lenders who can provide any purpose loans to clients who cannot qualify for a poor credit remortgage. For more information regarding your loan options head over to our poor credit loan page or call us on the above number. For those of you in retirement who have built up some equity in your home but are feeling the pinch cashflow wise, we offer help and advice on equity release schemes such as lifetime mortgages and interest only remortgages.
Poor Credit Remortgage Calculator
If you have been unlucky and ended up with poor credit in the past, keeping a hold on your financial expenditure is vital. Debt consolidation can go a long way to helping you stay on top of your finances with an overhaul of your payments but before you go ahead with any financial decision you should make sure it is affordable. A poor credit remortgage is no different. Our mortgage calculators can go a long way to helping you establish if this is the case. Head over to our calculators page and let our remortgage calculator crunch the numbers and give you a better idea of what you can afford. In the meantime, why not fill in our online no obligation on line enquiry form and our advisers can set about finding you some options.
What Is A Secured Loan
If you are a homeowner or mortgage payer and want to raise a significant sum, or have some adverse credit or want a longer loan repayment period, you may be drawn towards secured loans, but just what is a secured loan?
First Choice Finance can answer that for you and help you find the most suitable one for your circumstances.
First, it may be easier to set out what unsecured loans are – they can range from the spending that you put on your credit card to personal loans for a smaller amounts of money from a bank or other kind of lender which is usually based on your credit score and they rely solely on the good will of the borrower to pay the money back.
By contrast, a secured loan uses your property so that the lender has reassurance that they will get a return on the money they lend to you.
This leads to some secured loan lenders being more likely to lend you the money even if you`ve got an impaired credit record, the key here is to raise what you need and make sure the repayments are affordable.
The money borrowed from your secured homeowner loan could go towards a whole gamut of things, like purchasing a new people carrier for your expanding family or treating yourselves to a special cruise or major holiday if you`ve reached a significant milestone in your life or marriage.
Another use would be to reinvest the money into your house in the form of home improvements, through a new kitchen, orangery, bathroom or loft conversion for example.
This won`t only improve your enjoyment of the place, but could also make it worth more if you come to sell it in the future.

Alternatively, the money can be used to pay off existing unsecured debts so that you end up paying back lower amounts each month.
This kind of consolidation loan can make it easier to keep track of repayments, but may cost more interest over the period of the loan.
Don`t be left wondering `what is a secured loan?` – get in touch with First Choice Finance by calling 0800 298 3000 from a landline, 0333 003 1505 from a mobile or just visit firstchoicefinance.co.uk. and send in the short no obligation form.
Established In 1988. Company Registration Number 2316399. Authorised & Regulated By The Financial Conduct Authority (FCA). Firm Reference Number 302981. Mortgages & Homeowner Secured Loans Are Secured On Your Home. We Advice Upon & Arrange Mortgages & Loans. We Are Not A Lender.

First Choice Finance is a trading style of First Choice Funding Limited of The Old Courtyard, 103 Buxton Road, High Lane, Stockport, Cheshire. SK6 8DX. Copyright protected 2014-2018.