Highest Loan To Value Purchase Mortgages And Remortgages - Low Rate Loans From £5,000 To £150,000 - Release Your Equity With An Equity Release Plan
Payday loans have become incredibly popular with tens of thousands of people in the UK using payday loans for short term loans, the major downside is that they have incredibly high APR`s so before arranging a payday loan you should ensure that you are able to repay the loan in time to avoid penalty charges and stacking up lots of interest on your loan.

Here at First Choice Finance we can help you arrange a more traditional personal unsecured loan, usually taken over a longer period you can use a personal loan for almost any purpose. When entering a personal loan you are able to plan your monthly payments and ensure you have a proper repayment schedule to enable you to budget your finances for the short to medium term, giving you access to a large number of personal loan lenders we could help you find a loan deal in many different circumstances so if you have a poor credit history or other existing debts we may still be able to help.
Consolidating Payday Loans
As mentioned above if you have taken out a number of short term payday loans these could quickly escalate into much larger loans, here at First Choice Finance we have a number of debt consolidation loans both on a secured and unsecured basis by taking out a more structured loan plan you could find it easier budgeting your monthly outgoings, all loan quotes are free and with expert loan consultants available to talk to who are happy to answer any questions you many have why not call 0800 2983000 for more information
Credit Card Debt Consolidation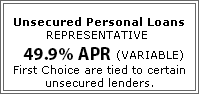 Another popular form of short term finance is credit cards or store cards again not designed to have over longer periods can be difficult having the discipline of paying more than your minimum monthly payments, meaning the card debt decreases very slowly, here at First Choice Finance we offer a selection of debt consolidation loans that could be used to consolidate all your credit cards as well as other short term finance, helping simplify your monthly outgoing putting the majority of your debt repayments into one, please enquire online for a no obligation free quote or alternatively visit our debt consolidation calculator to see how your short term finance payments compare to a debt consolidation loan.
Established In 1988. Company Registration Number 2316399. Authorised & Regulated By The Financial Conduct Authority (FCA). Firm Reference Number 302981. Mortgages & Homeowner Secured Loans Are Secured On Your Home. We Advice Upon & Arrange Mortgages & Loans. We Are Not A Lender.

First Choice Finance is a trading style of First Choice Funding Limited of The Old Courtyard, 103 Buxton Road, High Lane, Stockport, Cheshire. SK6 8DX. Copyright protected 2014-2018.