TV`s can range from a small low cost television set for the kitchen for you to watch, up to large entertainment centres that are a centre piece of your living room. With new TV`s coming out with lots of new technologies such as 3d TV`s and HD TV`s, prices can vary greatly ranging from a couple of hundred pounds into the thousands.

Here at First Choice Finance can help you raise the finance for your new TV set so you are able to spread the payments over time, giving you access to unsecured personal loans you can have the cash ready in the bank before you go shopping.

For a no obligation free quote please complete our short online enquiry form, all loan quotes are free and you are under no obligation to proceed with any finance offer we make to you.

With a number of finance plans available for both homeowners as well as tenants we have personal loan plans to suit a whole range of circumstances and situations. For a no obligation free quote complete our simple online form and we will help you start your finance journey helping you raise the money that you need.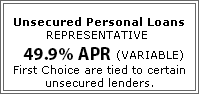 A favoured option for tv finance is taking out an unsecured loan this allows you to raise the money before visiting the electrical store, so you have the money in the bank and know what your monthly repayments are, and what the cost of the television will be over the term of the loan agreement.

Here at First Choice finance we give you a valued alternative to taking out store credit or buying your tv on a credit card. All quotes are free and we can help you examine the different options allowing you to have access to all the facts and figures before purchasing a new television for your home.
As well a for the purchase of a new television set our personal loans are able to be used for many other things, from buying a whole host of white goods that includes fridges, washing machines, cookers, etc. Our loans are also often used for the purchase of a new vehicle as well as carrying out home improvements on your property. Whatever you are in need of raising money for, give us a call and we can discuss the different options available and give you ano obligation free loan quote.
Established In 1988. Company Registration Number 2316399. Authorised & Regulated By The Financial Conduct Authority (FCA). Firm Reference Number 302981. Mortgages & Homeowner Secured Loans Are Secured On Your Home

First Choice Finance is a trading style of First Choice Funding Limited of The Old Courtyard, 103 Buxton Road, High Lane, Stockport, Cheshire. SK6 8DX. Copyright protected 2014-2018.