When you make an initial enquiry with First Choice Finance for your mortgage, our advisers will need to establish a few pointers on which mortgage type you are after. One of the big questions we will ask you is how you want your interest on the repayments to be calculated. Would you prefer fixed rate mortgages, standard variable rate mortgages or tracker mortgages? There are thousands of mortgage products available, not including any offers or discounts available on certain types. The huge array on offer can be mind boggling even for the most clued in of us all, fortunately for you, we have around 25 years of experience in the market and our knowledgeable in house advisers will help you make the right choice. Read on to get a general idea of the main aspects involved with a tracker mortgage, or head over to our page on mortgage types and fixed rate mortgages to see how they compare. Alternatively you can simply give us a call on 0800 298 3000 via a landline or 0333 003 1505 on a mobile phone to talk it all through with a finance adviser that already knows the market, inside and out.
Tracker Mortgages Explained
A tracker mortgage is fairly self explanatory. As the name suggests the rate is a type of variable interest rate that tracks along with a specified rate, usually either the lenders own rate or the Bank of England (BoE) base rate. The rate is set at a particular margin, for example 1%, either above or below it depending on the lenders view of the market conditions. This means that your mortgage payments will follow suit and change as the reference rate fluctuates.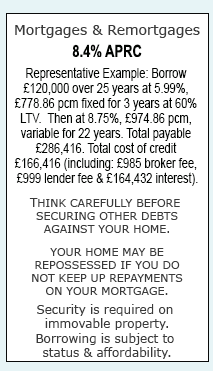 For example, if your tracker mortgage is agreed at base rate +2.5% and let`s say the current rate is 1.5%. The interest rate that you will pay on your mortgage payments will be 4%. If the base rate were to decrease by 0.5% to 1% then in turn, your tracker rate would also decrease the same value (0.5%) and now stand at 3.5%. The tracker works exactly the same way if the rate were to increase.
The Rate at which tracker mortgages are offered can vary depending on the loan to value (LTV) that you are wanting to borrow at. Mortgage lenders tend to follow a general rule that the lower your LTV the better tracker rate you will have access to. If you want to know your loan to value then visit our Loan To Value Calculator. You can also have access to many discount rates for a set time period that may be offered in conjunction with the tracker mortgage you secure. For more information regarding the rates and offers available in the current market give us a call on the above numbers.
The Good Points
Depending on the current market and economy you could secure deals with very low rates of interest. Take the recent economic downturn that influenced a historically low BoE base rate of only 0.5%
With tracker mortgages the rate isn`t dependent multiple factors. It will only change as and when the lender specified tracked rate or the BoE base rate does li>
Many lenders offer tracker mortgages with no penalties if you overpay. While your payments are low you could overpay on your mortgage, both shortening the mortgage term and decreasing the overall interest you pay.
Are There Any Catches?
There is no total rate security unlike a fixed rate mortgage. If you are concerned with financial security/budgeting then it may not be the best option.
There may be early repayment charges if you want to change the mortgage before the set term finishes.
Does A Tracker Differ From A Standard Variable Rate(SVR)
Tracker mortgages always follow the specified tracked rate, however, an SVR will follow a rate which is set by the mortgage lender or bank that is providing your mortgage. It is often the case that tracker mortgages will apply for a particular term, generally 1 to 5 years, after this period is over the rate will revert to the lender`s SVR. Many mortgage products are offered on a lender`s SVR from the start date. A second mortgage (secured loan) is another way to raise money that does not affect your mortage plans so if you need to raise some money but do not want to interfere with your mortgage because it will trigger early repayment charges then a secured loan could be an option for you. Get in touch when you would like some no obligation advice on which mortgage type to choose.
Established In 1988. Company Registration Number 2316399. Authorised & Regulated By The Financial Conduct Authority (FCA). Firm Reference Number 302981. Mortgages & Homeowner Secured Loans Are Secured On Your Home

First Choice Finance is a trading style of First Choice Funding Limited of The Old Courtyard, 103 Buxton Road, High Lane, Stockport, Cheshire. SK6 8DX. Copyright protected 2014-2018.