| | | |
| --- | --- | --- |
| | | |
| All Types Of Income Considered On 150k Mortgages | Know Your Payments With 2, 3, 5 Or New `10 Year Fixed Rates`. | Access Maximum Income Multiples For Your Earnings |

Quickly Find Out How Much Your Best Repayments Are On A Low Rate £150,000 Mortgage & Enjoy Many Of The Biggest Income Multiples Available In The UK. Some Mortgage Plans May Allow Up To 5X Your Total Household Earnings / Income (subject to affordability).

Compare All The Facts & Figures On Your £150000 Mortgage Lender Options For Free & Confidentially.
£150,000 is a popular mortgage amount for our customers and we have many competitive lender plans for you to either buy a home or remortgage your current one. You can utilise our 30 years experience to give you
an accurate, free personal mortgage quotation then
(only when you are ready) you can take out your 150k mortgage or remortgage over a term to suit you. The same options are available for £50,000, £150,000 or any mortgage amount up to £1,500,000, to meet your requirements and budget. It is quite popular for clients to look at buying a property priced at £150,000 - in which case
our lenders purchase plans can go up to 95% Loan To Value
, which equates to just a 5% deposit needed on a property of £150k.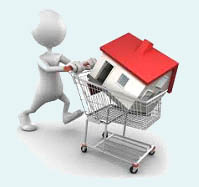 Whether you are a home mover, remortgaging, a first time buyer or a buy to let landlord - our UK mortgage team will discuss your goals and recommend a suitable mortgage or remortgage plan for your circumstances. We are UK owned company and our mortgage team are waiting to give you no obligation confidential help, facts, figures and advice. Please call
0800 298 3000
(freephone) or dial
0333 003 1505
(mobile friendly) alternatively complete our short
on line enquiry form
, don`t worry - there is no credit check with this form.
Repayment Examples For A £150,000 Mortgage
Initial mortgage fixed rates usually last between 1 and 5 years.
For example if the start rate is
1.85%
then a mortgage of
£150,000
over
25 years
will result in an initial monthly cost of
£629.04
, however this will normally increase after the initial rate period ends - which is why many people then look at remortgaging their home at that time. If you borrow
£ 150,000
over
25 years
at an interest rate of
1.28%
this will result in a monthly payment of circa
£588.86
on a repayment mortgage. The overall cost for comparison is
3.6%APRC
.
It is important to remember that mortgage rates may change and you will only be protected from mortgage rate alterations while in the fixed rate period of any mortgage, for detailed figures please talk to one of our qualified mortgage advisers who will
find the best mortgage plan from our range and give you a free, no obligation mortgage illustration
.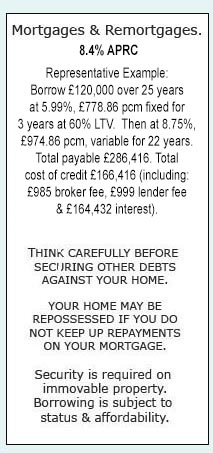 When finding a mortgage or remortgage there are a number of factors that determine the amount of money you are able to borrow and the rate you will receive. Some key criteria considered for a mortgage are: the loan to value, your existing debts, income & affordability, your credit profile and employment.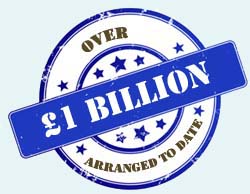 We will use our experience and wide mortgage product range to match your scenario with your mortgage solution. When looking for a mortgage you may notice that many mortgages have an initial
low mortgage rate
for a certain period of time that then increases, many people change there £150,000 mortgage through a remortgage when the initial payment period is over.
Loan To Value
Your loan to value is the name of the ratio used to calculate the amount of money you wish to borrow compared to the value of your property, the calculation is
MORTGAGE AMOUNT / PROPERTY VALUE * 100
Initial Rates From 1.28% Fixed (4.5%APRC).
If you are looking at borrowing £150,000 via a mortgage you will probably be able to purchase a house of a significantly larger value depending on your deposit size and loan to value.
| | | |
| --- | --- | --- |
| Mortgage Amount | Property Valuation | Loan To Value |
| £150,000 | £ 166,650 | 90% LTV |
| £150,000 | £ 187,500 | 80% LTV |
| £150,000 | £ 214,200 | 70% LTV |
| £150,000 | £ 250,000 | 60% LTV |
| £150,000 | £ 300,000 | 50% LTV |
Bad Credit Profile
If you have missed payments on your existing credit, then this could impact on the mortgage amount offered as well as the rate, First Choice Finance are a leading
mortgage broker
who are sometimes able to help people find a mortgage even with a bad credit rating. With an extensive panel of lenders we are often able to help where the high street banks are unable to, please contact us and we will be happy to answer any questions you may have.
Consolidating Existing Debt With A Mortgage
If you have loans or credit cards outstanding, remortgaging can give you the opportunity to re-evaluate your finances and combine your existing debts into your mortgage, it is important to consider the different options available, adding your short term finance into your mortgage can help reduce your monthly outgoings and simplify your finances, extending the term of your current finance may increase the cost over the term of the mortgage, visit our debt consolidation calculator or speak to a qualified mortgage adviser from First Choice Finance for a detailed repayment illustration.
Affording 150,000 Mortgage repayments
The key here is that if you decide to borrow £150,000 make sure you are comfortable with being able to meet the repayments both at the initial agreed payment amount and at the revert rate of the given plan. This rate will be stated on the documents offering your mortgage and is an indicator of where your rate could go, clearly you may well be able to remortgage to a plan cheaper than the revert rate either with your existing mortgage lender or with a new one. Please bear in mind that borrowing large amounts of money (such as one hundred and fifty thousand pounds) is not all about getting the lowest possible initial payment. Matters such as is the rate fixed or are you happy to risk it changing, or how long does the fixed payment last for compared to your job / income expectations etc need to be considered. This is where your mortgage adviser can help by supporting you and giving advice on the aspects of taking on fixed, variable tracker, low start and various other mortgage types. You do not have to navigate the mortgage maze alone, our longevity in the market means that whether you are a first time buyer, a home mover or have decided to remortgage your home we could help you get a mortgage plan you are happy with.
THINK CAREFULLY BEFORE SECURING OTHER DEBTS AGAINST YOUR HOME.
YOUR HOME MAY BE REPOSSESSED IF YOU DO NOT KEEP UP REPAYMENTS ON YOUR MORTGAGE.
Security is required on immovable property.
Established In 1988. Company Registration Number 2316399. Authorised & Regulated By The Financial Conduct Authority (FCA). Firm Reference Number 302981. Mortgages & Homeowner Secured Loans Are Secured On Your Home. We Advice Upon & Arrange Mortgages & Loans. We Are Not A Lender.

First Choice Finance is a trading style of First Choice Funding Limited of The Old Courtyard, 103 Buxton Road, High Lane, Stockport, Cheshire. SK6 8DX. Copyright protected.