Highest Loan To Value Purchase Mortgages And Remortgages - Low Rate Loans From £5,000 To £150,000 - Release Your Equity With An Equity Release Plan
If you are looking for an £80,000 mortgage to buy a home or are looking to remortgage your current property, then First Choice Finance have a number of lenders to choice from and we will match you to the £80,0000 mortgage or remortgage best suited to your scenario. Whether you're at 95% Loan To Value (LTV), that is requiring £80,000 to buy a £84,000 property or if you're at a lower loan to value and just need an £80,000 mortgage for a £160,000 home at 50% LTV, First Choice could help.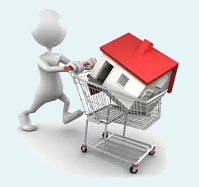 There are also some excellent fixed rates available on remortgage solutions at the £80,000 mark, simply call for free on 0800 298 30000 or complete our simple no credit check on line enquiry form and our mortgage adviser team will work on the best mortgage products for your scenario.
| | | |
| --- | --- | --- |
| Mortgage Amount | Property Value | Loan To Value |
| £80,000 | £84,000 | 95% LTV |
| £80,000 | £88,000 | 90% LTV |
| £80,000 | £100,000 | 80% LTV |
| £80,000 | £113,000 | 70% LTV |
| £80,000 | £133,000 | 60% LTV |
| £80,000 | £160,000 | 50% LTV |
Definition & Payments On A £80,000 Home Loan
For many owning your own house is a primary hope and with our help this dream can become reality, because in most cases you will need a mortgage to purchase your home and that is where our over 25 years experience in the finance sector comes into play. As an example,
if you were to borrow £80000 over a 25 year term with an interest rate of 1.85% your monthly repayments could start at £335.49 per month.
These may well change over time and are likely to increase at some point.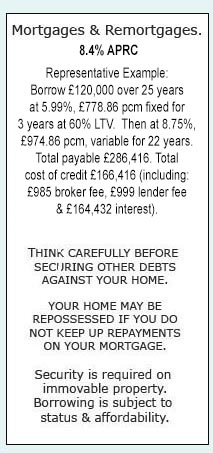 A mortgage is where you have put a share of the value of the property price via a deposit (this can be as low as five percent, but the lower your deposit the higher interest rate you will pay) and then borrow the rest of the money so you have the full amount E.g. if you have if you have £24,000 for a deposit and are buying a £104,000 property you will require a £80,000 mortgage so you have the full amount.
Here at First Choice Finance we are able to help you in your search for a mortgage to buy your property. One simple enquiry and one of our qualified mortgage advisers will begin looking for a mortgage plan that meets your needs, comparing the different mortgage plans from our panel of lenders seeking the right deal for your circumstances.
The possible amount of the mortgage is determined by the value of the property and the deposit or amount of money you have to put towards the purchase, this is also known as the loan to value (LTV )and is a major contributing factor of the rate you will receive, the lower the LTV the better the interest rate you will receive. Please bear in mind that you will also need to pay and lender, valuation or advice charges on top of your deposit.
What Kinds Of £80000 Mortgages Are Available?
Different mortgages can be distinguished by the different properties they have with various mortgage models available that depends on the financial scope and the individual situation of the borrower Different mortgage models include fixed-rate mortgages (fixes can be from 2 years to 10 years), tracker mortgages, part & part mortgages and variable rate mortgages. New mortgage products are constantly being worked upon, so you may be pleasantly surprised with the variety of £80000 mortgage or remortgages that are available for your needs.
How do I Provide Favourable Conditions For A Mortgage Home Loan?
If you are looking at a mortgage at around the eight thousand pounds mark the good news is there are lots of lenders competing for that business, it is not a large amount of money compared to many mortgages but is signficant enough to get the lenders interested. Therefore mortgages are available for many personal profiles such as employed PAYE, self employed sole trader, self employed limited and for customers with good, fair or adverse credit profiles. A good way to find a suitable mortgage / remortgage is to compare multiple plans and lenders, here at First Choice Finance we have numerous mortgage lenders and compare the different deals available advising on the ones that best suit your circumstances. When comparing mortgages there are clearly more favourable interest rates on some than others, but you must consider other factors such as early repayment charges, revert rates, affordability and mortgage type, an adviser will be happy to work on these area for you and explain the different options available and answer any questions you may have.
Can Several Mortgages Be Recorded On A Property
When you buy a house with a mortgage a charge is registered against the property. This is called the first charge as the company lending the money is the first company to register their interest on your property. Later on if you are looking to refinance later or release some of the equity you have in the property then you could remortgage which is where you replace one mortgage with another, therefore replacing the first charge. you can take out a further advance which may show as a secondary charge by the same lender or else you could take out a secured loan for £80,000 in the latter case the secured loan lender will place a second charge on the property, this being known as a second mortgage.
Established In 1988. Company Registration Number 2316399. Authorised & Regulated By The Financial Conduct Authority (FCA). Firm Reference Number 302981. Mortgages & Homeowner Secured Loans Are Secured On Your Home. We Advice Upon & Arrange Mortgages & Loans. We Are Not A Lender.

First Choice Finance is a trading style of First Choice Funding Limited of The Old Courtyard, 103 Buxton Road, High Lane, Stockport, Cheshire. SK6 8DX. Copyright protected 2014-2018.