Highest Loan To Value Purchase Mortgages And Remortgages - Low Rate Loans From £5,000 To £150,000 - Release Your Equity With An Equity Release Plan
If you are looking to buy a new car with a fast, no fees, personal loan, First Choice Finance can help with your car loan before you start your vehicle search. So when you arrive on the car lot you have your cash in your hands giving you the upper hand in the negotiation.
First Choice Finance have a selection of loan providers for you that could be used to purchase any car. The model of car you choose will be down to you, big or small, new or used, a practical saloon or a super fast sports car, you decide.
Our Finance Specialists will compare loan plans from our extensive panel of lenders, to find the best car loan for your circumstances.
How Do Car Loans Work?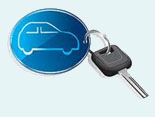 Once you have decided that you want to buy a new car, the next step is financing the purchase. A car loan from First Choice is the ideal solution. Car loans may seem daunting, but essentially they are just like other loans. You borrow the money to pay for the car, often putting you in a better bargaining position as your have the funds ready to buy the car, and then you agree a term to repay the loan, with added interest from the lender. A car loan through us could afford you the luxury to choose whatever make, model or type you want. A personal loan provider won`t normally restrict you to certain deals on particular cars like a car dealership might. Call us on
0800 298 3000
(landline) or
0333 003 1505
(mobile) if you have any queries or fill in our 2 minute enquiry form at the top right of this page and our UK car loan consultants will be more than happy to help.
Cheap Car Loans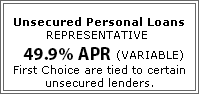 We have access to a selection of car loans and the cost of loan will depend on your credit rating, if you have a good credit rating you will receive a cheaper rate. We can also help people find car finance who may have found it difficult finding a loan in the past, unfortunately your APR may well be higher but you can be assured we will be looking for the cheapest car loans available for your individual circumstance from our selection of lenders. Call to speak to one of our car loan specialists and see what APR you can secure on your cheap car loan.
Compare Car Loans
As we have explained earlier, here at First Choice we want to get our customers the best deal, and that could come down to some of the cheapest car loans. We can provide you with free, no obligation quotes for the cheapest car loans available for your circumstance from our lenders or associate brokers. On occasion, you may have certain loan requirements that are more important that finding the cheapest loan. That is completely fine; we can help you find a lender to tailor a loan to your needs and provide you with other options so that you can compare multiple car loans that may available. Like we said, all of the quotes are free, so you can compare car loans safe in the knowledge that you will pay no upfront fees and can make an informed decision. If you would like us to provide you with some competitive quotes to compare car loans, fill in our online application at the top of the page and enquire in minutes.
Car Loans Calculator
Calculating the repayments on your car loan is the same as calculating your repayments on any other type of loan. Please visit our loan repayment calculator to see what payments you will be making. Your APR will vary depending on your credit rating, First Choice Finance have loan plans for people with good, fair and poor credit rating, but poor credit car loans may be more expensive.
Whatever your circumstances please complete our short enquiry form or give us a call and we will be happy to discuss your requirements and provide you with a free quotation.
Unsecured Personal Loans
REPRESENTATIVE 49.9% APR (VARIABLE)
First Choice are tied to certain unsecured lenders.
Established In 1988. Company Registration Number 2316399. Authorised & Regulated By The Financial Conduct Authority (FCA). Firm Reference Number 302981. Mortgages & Homeowner Secured Loans Are Secured On Your Home. We Advice Upon & Arrange Mortgages & Loans. We Are Not A Lender.

First Choice Finance is a trading style of First Choice Funding Limited of The Old Courtyard, 103 Buxton Road, High Lane, Stockport, Cheshire. SK6 8DX. Copyright protected.