Buy Your Council Property With No Deposit. Speak to One of Our Fully Qualified Mortgage Advisers. Same Day Advice. All Types of Credit Scores. Over 30 Years Experience. Complete Support.
| | | |
| --- | --- | --- |
| | | |
| Buy Your Council House With No Deposit | Join 1000`s Who Stopped Renting & Own Your House | Right To Buy & Right To Acquire Mortgages |

Looking To Purchase Your Council House Or Flat? No Deposit Needed On Many Council Right To Buy Purchase Mortgage Schemes.
Get No Obligation Free Mortgage Lender Illustrations.
Quite often prospective right to buy owners will need no deposit to purchase their home from the council or housing association. The right to buy scheme was introduced to help council tenants and housing association renters have the ability to purchase the property that they live in with a very large discount. Most of our mortgage lenders will take the discount into account when you buy your council home, thereby allowing you the right to buy without an initial deposit.
Since the Right to Buy scheme was introduced by Margaret Thatcher`s government in 1980, social housing tenants have had the right to purchase their council house at a discount.
Right to Buy
can also apply to people who live in an ex-council home that has since been acquired by a housing association
. This is known as the `Preserved Right To Buy`. The core requirements here are that you are a secure tenant, it`s your main home, the property is self-contained and you`ve had a public sector landlord for at least three years at some point in the past.
In 2012, David Cameron`s government introduced significant changes to the Right to Buy initiative, which has led to some confusion about whether or not a deposit is needed if you`re looking to purchase your house under the scheme. To clarify currently, as of 2022, under Boris Johnson`s government in many cases
no deposit is required
.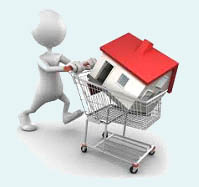 Since April 2022, the maximum discount that you will receive deducted from the cost of buying your council house is £116,200 if you live in London, while you`ll get up to £87,200 of its total value if you live elsewhere in England
. (Please Note: This sum increases every April in line with inflation. For example: in April 2018 it was lower at a maximum of £80,900 - unless you lived in London where it went up to £108,000.)
So make the most of the right to buy scheme whilst it is still available.
Many mortgage lenders will now accept this discount as a deposit, meaning you won`t necessarily need to save up the lump sum that lenders usually want from buyers of none council properties.
However, some lenders want you to provide them with a deposit regardless of the discount you`re receiving. The sum of this will vary from lender to lender. We usually work on the basis of getting your mortgage in place with a lender who does not require a deposit when available.
As the approach to Right to Buy deposits is so different across the mortgage market, it`s important to
seek advice before you agree to take out a mortgage on your council home
with a particular lender.
First Choice Finance have been arranging mortgages for 30 years. Our mortgage team are here to help with advice on taking out a right to buy or right to acquire mortgage and will give you a free confidential quotation. This way you will have all the facts and figures before you need to decide whether you`d like us to process your mortgage from enquiry through to completion for you. Right to acquire mortgages are often available for housing association tenants and still have major discounts albeit usually less than the traditional right to buy discount levels.
That being said a new scheme originally piloted in London has been rolled out in the Midlands for housing association tenants - it is called the
Voluntary Right To Buy
scheme. It applies to tenants in the East and West Midlands and could enable you to buy your home at the full Right To Buy discount levels.
We have years of experience of helping customers to secure Right To Buy mortgages, so we can help you to
find the very best deal to buy your house or flat
from our panel of lenders. All quotes are provided for free, all enquiries are confidential and you will get all the facts and figures before you decide to buy your home with a right to buy mortgage or not. Call our UK team for free on a mobile or landline on
0800 298 3000
or complete our short
No Credit Check Online Enquiry Form
and we will get cracking on your mortgage solution.
Some common questions and answers are listed below. Click on the question to see the answer...
How long after buying a council house can you sell it?,
Can I still buy my council house in Scotland?,
How much discount do you get on a council house?,
Can I use the right to buy discount as the deposit?,
Can I Get A Bad Credit Mortgage To Buy My Council House With Bad Credit?,
How long after buying a council house can you sell it?
In reality you could sell straight away, but then you would have to pay all the discount back. The early sale penalty is reduced by 20% per year over the first 5 years after sale. So sell within 12 months and you will have to pay back all the discount, which makes that idea fairly pointless. However sell after 3 complete years have passed (so you are in your 4th year post purchase) and you would only have to pay back 40% of the deposit. If you can wait for 5 years to elapse all the equity you have earnt is yours to keep. Bear in mind if you sell within the first 10 years the authority you bought it from normally have first choice on buying it back from you - this has to be at a fair market price, so should not be seen as a negative.
Can I still buy my council house in Scotland?
There is only one very short answer here, which is unfortunately `no` .....for the moment. This may change and there may be nuances such as the National Housing Trust builds which `could` offer some tenants an option to buy. The only real course of action is to contact your local authority and ask for the latest position. If you are not happy with the answers given back to you then canvas your local Councillor.
How much discount do you get on a council house?
The discounts are calculated on a number of factors, a core one being your time in council property (including previous council homes) and are in percentages applied to the assessed market value of your home. So they will vary widely by area - because house prices vary quite widely by region. In terms of percentages if you have been a council tenant for just 3 years you can apply for a 35% discount on a house or a 50% discount on a flat. After 5 years this goes up by 1% per annum to the maximum discount of 70%. To ensure discounts are not too large the government restricts the maximum discount that can be given on any one property. As of April 2021 the maximum in London is £112,800 whereas everywhere else in England the maximum is £84,600. This still is potentially a great opportunity to get some credit back for all the rent you have paid over the years.
Can I use the right to buy discount as the deposit?
This is a very common question as many tenants believe they can afford to pay a mortgage but may not have enough savings to pay a large deposit up front. Many of our mortgage providers are happy to use the discount as your deposit provided it is significant enough to give the lender some protection in terms of equity in the property that they agree to mortgage. However it is important to realise the buyer will still incur some costs and charges when buying their home from the council or housing association. Some of these `may` be added to the mortgage but that is not a given so buyers are very likely to need some money behind them. Costs can include lender valuation fee, mortgage advice / processing fees, lender product charges, conveyancing & legal charges.
Can I Get A Bad Credit Mortgage To Buy My Council House With Bad Credit?
Having bad credit does not in itself exclude you from getting a mortgage. There are many factors involved when assessing a mortgage application. Key areas such as affordability, voters roll history, income sources, ages of applicants and of course the amount you want to borrow versus the value of the property (this is termed `the equity level` / `loan to value`) are all very important. Basically the lower the loan to value required the less risk the mortgage loan is for the lenders and therefore the more likely they are to agree to your mortgage. So if you have some bad credit, logic dictates you may need a bigger deposit than the council discount. You will probably need the help of a mortgage adviser to find the right mortgage for you if you have bad credit or a low credit score. Many lenders who accept bad credit are not on the high street and get their clients through approved qualified mortgage advisers.
, , Buy Your Council Property With No Deposit. Speak to One of Our Fully Qualified Mortgage Advisors - No Up-Front Fees. Same Day Advice. All Types of Credit. 25 Years` Experience. Complete Support.
THINK CAREFULLY BEFORE SECURING OTHER DEBTS AGAINST YOUR HOME.
YOUR HOME MAY BE REPOSSESSED IF YOU DO NOT KEEP UP REPAYMENTS ON YOUR MORTGAGE.
Security is required on immovable property.
Established In 1988. Company Registration Number 2316399. Authorised & Regulated By The Financial Conduct Authority (FCA). Firm Reference Number 302981. Mortgages & Homeowner Secured Loans Are Secured On Your Home. We Advice Upon & Arrange Mortgages & Loans. We Are Not A Lender.

First Choice Finance is a trading style of First Choice Funding Limited of The Old Courtyard, 103 Buxton Road, High Lane, Stockport, Cheshire. SK6 8DX. Copyright protected.