If you are coming to the end of your fixed rate element of your current mortgage but have missed payments or other debts you may find it harder to remortgage. First Choice Finance are a leading UK mortgage broker with an extensive panel of lenders offering specialist plans to help people remortgage with bad credit, when you enquire online you will receive a tailored service with qualified mortgage help from a dedicated mortgage adviser who will help you through the remortgaging process from beginning to end to ensure the most fluent professional service.
Reasons to remortgage
There are a number reasons to remortgage, what ever your needs and requirements a remortgage from First Choice Finance can be used for almost any purpose
Find a lower mortgage rate - If you are coming to the end of your fixed rate element then your mortgage rate often goes up, First Choice Finance gives you access to a selection of plans and search for a mortgage plan that best suits your circumstances, if you have a poor credit rating then you may find this affects the mortgage rate you receive, but we will look to find the best mortgage deal available and all mortgage quotes are provided free and under no obligation to accept any offer that you may receive.
Consolidate Debts - If you have out standing loans, credit cards, store cards or other forms of finance, then you could use a remortgage to consolidate your debts, this can be used to reduce your monthly outgoings and simplify your finances, depending how you rearrange your finance you may end up repaying more over the term of the loan, use our mortgage calculators to see what your mortgage payments will be, alternatively gives us a call and we will be happy to discuss the different options available.
Raise Money For Any Purpose
- Home improvements, newer car, vacation, a special purchase or any other thing else you need to raise money for, a remortgage from First Choice Finance can be used to raise extra money and can be used as an alternative form of finance, if your mortgage is not coming up for renewal then you could use a second mortgage as an alternative >> more information of second mortgages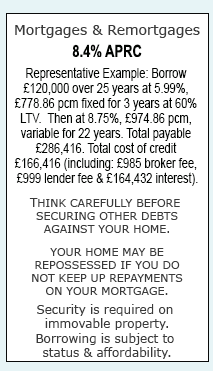 Whatever the reason to remortgage then please contact us and we will be happy to start the search for a remortgage suitable to your needs and requirements.
Have I got a bad credit rating?
There are many things that may affect your credit rating, missed finance payments, outstanding debts, time in employment and time at current address, all these can affect your credit rating and the mortgage plans available to you as well as the rate you will receive, but you can be assured that our mortgage advisers have detailed knowledge of the different plans and will find the deal that best suits your requirements, for more information and no obligation free quote please contact us and speak to a qualified mortgage adviser, it is important to remember we have access to plans unavailable on the high street so even if you have been declined a remortgage in the past we can still often help people who have had difficulty arranging a mortgage in the past,
Offering a wide selection of remortgaging plans from mortgage lenders on the high street and specialist lenders for people looking to find a remortgage with bad credit history or existing debts, you will receive expert help and advice throughout the remortgaging process from start to finish.
Adverse Credit Remortgaging Help From Qualified Advisers
If you`re concerned about not being able to get a new mortgage for your property because of your credit history, you should consult First Choice Finance about an adverse credit remortgage.
According to Aqua, 72 per cent of people who get declined loans miss out because they haven`t completed previous payment agreements, whilst opening multiple accounts and apparently making more than four credit applications in a year can also affect your credit score.
If these things are related to your being over indebted with credit and you`re finding your existing outgoings a struggle, an adverse credit remortgage may help, as you can use the money to pay off your existing unsecured loans to leave you with a single lower repayment each month.
This should ease your cash flow and as long as you`re able to keep up the payments, it may well rectify your credit situation for applications next time around.
You do, however, need to bear in mind that this kind of remortgage may mean you end up paying more in interest over its full term.
Of course, you may be looking to remortgage for other reasons, like your existing deal is about to run out and you don`t want to be put on your lender`s standard variable rate and release some money.
Often when you have had adverse credit, you may think your options are limited or even none existent, but that needn`t be the case when applying through First Choice Finance.
That`s because we look through a wide selection of options and provide the most suitable one for you on a no-obligation basis, which you decline for free if you don`t think it`s right for you.
Find out more about adverse credit remortgage free quotes by filling in our on line enquiry form or call us on 0333 003 1505 from a mobile or 0800 298 3000 from a landline.
Established In 1988. Company Registration Number 2316399. Authorised & Regulated By The Financial Conduct Authority (FCA). Firm Reference Number 302981. Mortgages & Homeowner Secured Loans Are Secured On Your Home. We Advice Upon & Arrange Mortgages & Loans. We Are Not A Lender.

First Choice Finance is a trading style of First Choice Funding Limited of The Old Courtyard, 103 Buxton Road, High Lane, Stockport, Cheshire. SK6 8DX. Copyright protected 2014-2018.