Highest Loan To Value Purchase Mortgages And Remortgages - Low Rate Loans From £5,000 To £150,000 - Release Your Equity With An Equity Release Plan
As a leading UK mortgage broker First Choice Finance give you fully qualified mortgage advice, and gives you access to a large panel of mortgage lenders with deals to suit most circumstances. When you enquire to First Choice Finance we give you free quotes and will help you through the whole mortgage process from the start until completion, along the way you will get help and advice from a qualified mortgage advice.

Whether you are looking for a new mortgage to buy a home, a mortgage for a rental property, a commercial mortgage or a remortgage to find a better deal, a remortgage to consolidate your debts, a remortgage to raise money for almost any purpose. Whatever your needs and requirements you will get expert help throughout the mortgage / remortgage process

First Choice Finance has provided an expert mortgage service for over 25 years, based in Stockport, First Choice Finance can complete your mortgage or remortgage using phone and email providing mortgage advice all around the UK. Enquire online and receive a no obligation free mortgage illustration
Mortgage Repayment Calculator
As a leading mortgage provider we give visitor to our website a number of free online resources to help you calculate mortgage payments, savings and costs of different mortgage options

Find the cost of a £150,000 Mortgage
Debt Consolidation Mortgage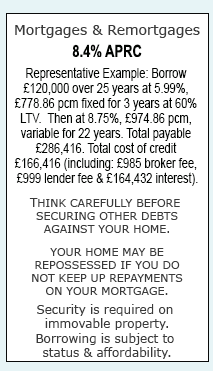 Are you having problems keeping up with your monthly repayments, First Choice Finance are experts at helping people to consolidate your debts using a mortgage, by using a debt consolidation mortgage you can simplify your monthly finances to just your one mortgage repayment, for more information please talk to one of our qualified mortgage adviser who will help guide you through the mortgage process.
Established In 1988. Company Registration Number 2316399. Authorised & Regulated By The Financial Conduct Authority (FCA). Firm Reference Number 302981. Mortgages & Homeowner Secured Loans Are Secured On Your Home. We Advice Upon & Arrange Mortgages & Loans. We Are Not A Lender.

First Choice Finance is a trading style of First Choice Funding Limited of The Old Courtyard, 103 Buxton Road, High Lane, Stockport, Cheshire. SK6 8DX. Copyright protected 2014-2018.